Rates of fluvial processes
Assessing rates of geomorphological processes beyond the period of historical records is often challenging, yet is essential to understand the mechanisms of change, and what drives those changes.Fluvial systems are vital components of the landscape, shaping their immediate environment, providing water resources and transporting sediment and nutrients. The response of fluvial systems to climate and other external forcing is complex, and high quality chronologies covering periods from decades to several thousand years are vital in their study.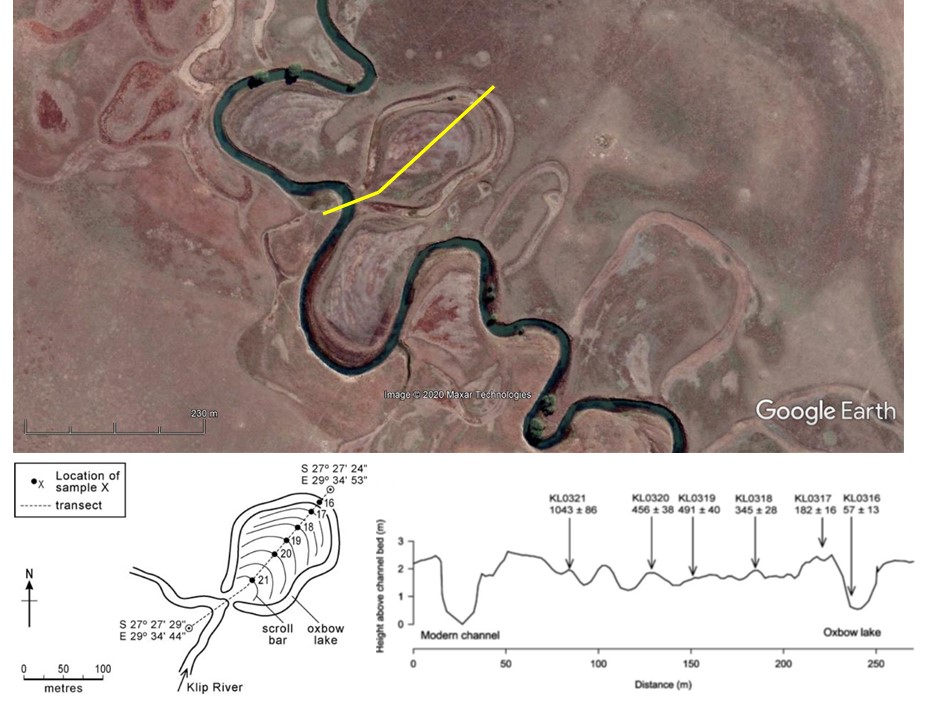 Meander cut-off on the Klip River, South Africa. Dates show that this meander developed in the period from about 1000 years ago to 50 years ago. (Rodnight et al 2005)
The development of single aliquot and single grain methods at ALRL were important in improving the reliability of luminescence of fluvial sediments. ALRL has been involved in developing chronologies for fluvial systems in southern Africa, North Africa, Europe, Asia and Australia.
Further Reading
Barrows, TT, Williams, MAJ, Mills, SC, Duller, GAT, Fifield, LK, Haberlah, D, Tims, SG and Williams, FM (2014). A White Nile megalake during the last Interglacial period. Geology 42: 163-166.
Giosan, L, Clift, PD, Macklin, MG, Fuller, DQ, Constantinescu, S, Durcan, JA, Stevens, T, Duller, GAT, Tabrez, AR, Gangal, K, Adhikari, R, Alizai, A, Filip, F, VanLaningham, S and Syvitski, JPM (2012). Fluvial landscapes of the Harappan Civilization. Proceedings of the National Academy of Sciences 109(26): E1688-E1694.
Larkin, ZT, Ralph, TJ, Tooth, S and Duller, GAT (2020). A shifting 'river of sand': The profound response of Australia's Warrego River to Holocene hydroclimatic change. Geomorphology 370: 107385.
Larkin, ZT, Tooth, S, Ralph, TJ, Duller, GAT, McCarthy, T, Keen-Zebert, A and Humphries, MS (2017). Timescales, mechanisms, and controls of incisional avulsions in floodplain wetlands: Insights from the Tshwane River, semiarid South Africa. Geomorphology 283: 158-172.
Macklin, MG, Tooth, S, Brewer, PA, Noble, PL and Duller, GAT (2010). Holocene flooding and river development in a Mediterranean steepland catchment: the Anapodaris Gorge, south-central Crete, Greece. Global and Planetary Change 70: 35-52.
Macklin, MG, Woodward, JC, Welsby, DA, Duller, GAT, Williams, FM and Williams, MAJ (2013). Reach-scale river dynamics moderate the impact of rapid Holocene climate change on floodwater farming in the desert Nile. Geology 41: 695-698.
Rodnight, H, Duller, GAT, Wintle, AG and Tooth, S (2006). Assessing the reproducibility and accuracy of optical dating of fluvial deposits. Quaternary Geochronology 1: 109-120.
Tooth, S, Rodnight, H, McCarthy, TS, Duller, GAT and Grundling, AT (2009). Late Quaternary dynamics of a South African floodplain wetland and the implications for assessing recent human impacts. Geomorphology 106: 278-291.
Williams, MAJ, Williams, FM, Duller, GAT, Munro, RN, El Tom, OAM, Barrows, TT, Macklin, MG, Woodward, J, Talbot, M, Haberlah, D and Fluin, J (2010). Late Quaternary floods and droughts in the Nile Valley, Sudan: New evidence from optically stimulated luminescence and AMS radiocarbon dating. Quaternary Science Reviews 29: 1116-1137.
Williams, MAJ, Duller, GAT, Williams, FM, Woodward, JC, Macklin, MG, El Tom, OAM, Munro, RN, El Hajaz, Y and Barrows, TT (2015). Causal links between Nile floods and eastern Mediterranean sapropel formation during the past 125 kyr confirmed by OSL and radiocarbon dating of Blue and White Nile sediments. Quaternary Science Reviews 130: 89-108.