Dr Anoush Simon
BA, MSc, PhD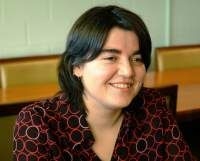 Profile
I have been a member of the Dept since 2003, and completed my PhD in 2004. Before this, I worked in the library at the Courtauld Institute of Art in London, and also worked in the book trade for several years. Between completing my MSc (Sheffield University) and commencing my PhD studies, I worked at the North West Film Archive in Manchester and for BBC Information and Archives in London. I have an enduring interest in film and photo archives.
Additional Information
Professional Activities
Member of CILIP; Career Development Group
Teaching
Module Coordinator
Coordinator
Lecturer
Blackboard Dept Admin
Postgraduate Dissertation supervision
Research
My research and teaching interests centre on the impact of technology on society and in particular the information profession, and include information society theory; social exclusion and the digital divide; ICT and community, gender and IT; library workers - careers and motivations.
Publications
McGuinness, DM
& Simon, A
2018, '
Information disclosure, privacy behaviours, and attitudes regarding employer surveillance of social networking sites
'
IFLA Journal
, vol. 44, no. 3, pp. 203-222.
https://doi.org/10.1177/0340035218785389
Simon, AM
& Taylor, MM
2011, '
Career History and Motivations for Choosing LIS: a case study at Aberystwyth University
'
Library Review
, vol. 60, no. 9, pp. 803-815.
https://doi.org/10.1108/00242531111176817
Simon, AM
, Taylor, MM
, Nelson, J
& Lithgow, SD
2011,
Distance learning, e-learning and the digital divide
. in
Cambridge International Conference on open, distance and e-learning 2011.
Unknown Publisher, Cambridge, pp. 3-12, Cambridge International Conference on Open, Distance, and E-Learning, Cambridge, United Kingdom of Great Britain and Northern Ireland,
25 Sep 2011
.
More publications on the Research Portal