Dr Sarah Higgins
MA(HONS), PG DipCart, DAA, FHEA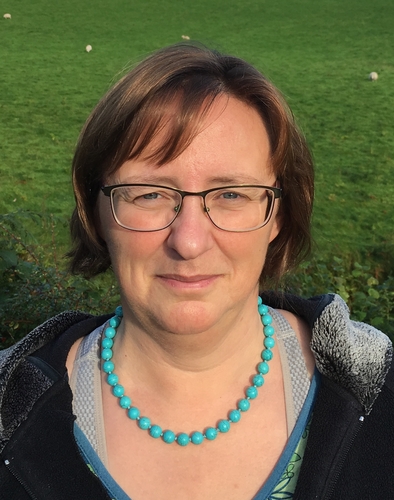 Profile
I joined the Department in 2010, where my research and teaching focuses on digital implementations in archives and libraries. Previously I worked for the University of Edinburgh's Information Services Group where I worked in several IT implementation teams before joining the Digital Curation Centre (DCC) to advise on research data lifecycle management and technical standards. With degrees in geography and cartography I have an ongoing interest in spatial data and have worked in GIS positions for the British Antarctic Survey and various local authorities and utilities companies. I also spent several years working as a self-employed stage designer. In my spare time I sing with my local acapella choir and enjoy fibre craft and artwork.
Additional Information
I am a member of the Archives and Records Association, coordinate DIS's membership of the Digital Preservation Coalition and the Archives and Records Council Wales (ARCW). I am a memeber of the latter's Digital Preservation Group Sub-Group which is developing an all Wales digital preservation solution. Peer review is undertaken for a number of journals including Archival Science, Computer Standards and Interfaces, International Journal of Digital Curation, Library Review and the Records Management Journal.
Research
Digital curation, particularly the conceptual space occupied by digital heritage and its intersections with museums, archives, libraries and galleries. Context and discovery for the digital and documentary heritage.
Publications
Higgins, S
& Higgins, CI 2022,
Data curation and agroecology: Examining data requirements for short supply chains
. in
Proceedings of the 18th International Conference on Digital Preservation 2022.
pp. 260-265.
10.17605/OSF.IO/GCYNK
Evans, G
, Higgins, S
, Thomas, C
, Sauze, C
& Zwiggelaar, R
2022,
National-AI Enabled Repository for Wales: Focus Group Summary Report for Project Partners
.
Evans, G
, Thomas, C
, Sauze, C
, Zwiggelaar, R
& Higgins, S
2022,
National-AI Enabled Repository for Wales: AI Prototype Testing Sessions Report
. Prifysgol Aberystwyth | Aberystwyth University.
10.20391/z11x-tw26
Evans, G
, Higgins, S
, Thomas, C
, Sauze, C
& Zwiggelaar, R
2022,
Ystorfa Genedlaethol i Gymru wedi'i Galluogi gan Ddeallusrwydd Artiffisial Adroddiad Cryno'r Grŵp Ffocws ar gyfer Partneriaid y Prosiect
.
Chris, H, Rowland, A, Koutroumpas, M
, Higgins, S
, Williams, J, Ties, S, Gruffudd, E & Naumann, E-K 2021,
Mixed Farming - Histories and Futures: Final Report
.
More publications on the Research Portal