Agriculture
Simon Bonner, Assistant Herdsman, Cheshire
BSc Agriculture with Countryside Management
"My current employment is in Cheshire, on a pasture-based system milking 240 autumn calving cows and focusing on the production of milk from both grazed grass and high quality forage.
In June 2014 I was awarded the John Platt Travel Scholarship from Reaseheath College (funded by the Cheshire Agricultural Society), giving me a grant to travel and observe good examples of farming in my chosen field, which is pasture-based dairy farms looking at profitability and opportunities for wealth creation. I intend to travel to Ireland and back to New Zealand.
Aberystwyth is a fantastic place to study and had a large part to play in shaping my‌ agricultural career!‌"
Kerry Jerman, Farm Business Consultant; The Andersons Centre
BSc Agriculture with Business Studies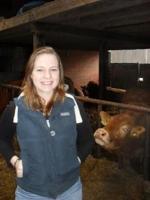 "I work alongside both dairy and sheep and beef farmers, evaluating their current business performance and creating future strategies for them to improve their profitability/viability. Forward budgeting and cashflow forecasting allows farmers to set targets for themselves and allows them to make their businesses more efficient. I also carry out financial monitoring for clients to help them follow the budgets that we have prepared with them, to help them reach their physical and financial targets.
Having only a background in beef and sheep before University, the degree broadened my knowledge of these sectors and also increased my knowledge in the dairy sector. The business modules in the second and third year were very relevant to my current job role as this is where I first learned about budgeting in a farm business."
Agriculture Courses at Aberystwyth University