Signpost Mentoring
What is the Signpost Mentoring Scheme?
Signpost Mentoring is a scheme provided through the Department of Student Support and Careers Services to assist students who may need a bit of extra help with day to day university life.
Signpost Mentoring offers friendly, confidential, one-to-one advice on any aspect of university life by students for students.
"Signpost is a must for freshers. Whatever the issue or concern - big or small - they are there to help." - Signpost Mentee

Whilst Signpost is primarily targeted at new students with the aim of assisting with integration into student life, it is open to all students who wish to apply. We suggest you visit the Mentee page to see if we can help you. If you are staff or a parent / guardian see our specific pages on how mentoring can help students."
"My Signpost Mentor helped me find my way around the university of Aberystwyth. As I am an exchange student in my final year of my degree, it was a bit scary to arrive at a completely unknown University and it was reassuring to know that I always had someone to turn to who could help me." - Signpost Mentee
For more information on the impact of the Signpost Mentoring scheme take a look at a recent LTEF (Learning & Teaching Enhancement Fund) funded study
Profile of a Mentor
Mentors in the Signpost scheme are either 3rd or final year undergraduates or postgraduates. They have been trained to deal with a variety of issues that students may face and they have all recently been 1st years themselves! Mentors are keen to listen and to help guide you through any problems you are having in a supportive, non-judgemental and friendly manner. Help can include : -
Settling down in University life: for example by directing to other University services and extra curricular activities etc
Achieving your potential: with, for example, time management advice and organisational skills development
Planning for the future: with getting work experience and helping to prepare for exams.
But don't take our word for it! Hear from our Signpost Mentors for yourself:
If you've been inspired and fit the above criteria, you can find out about the application process on the Mentors page.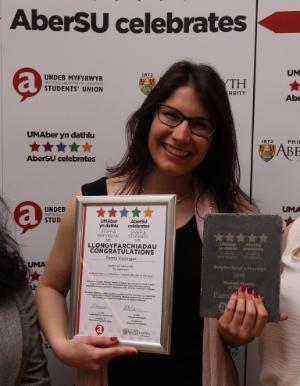 Signpost Mentor Panna Karlinger (Student Mentor of the Year 2018/19)
Mentoring can make a real difference and many Mentees have benefitted from the support of their student peers. AberSU now include a Student Mentor of the Year award in the Staff and Student awards.
Running alongside the Signpost scheme there are also departmental specific Peer Mentoring schemes to provide more targeted department specific advice.
If you have any questions please or see our FAQs