Staff
Who might benefit from the scheme?
Any student that needs a little extra help with university life may benefit from having a student Signpost Mentor to talk to that will understand things on the same level. Common issues include
Homesickness
Accommodation
Finances and budgeting
Time management
Access to University services and support
Revision
Exams
For more information about Signpost Mentoring please see our main page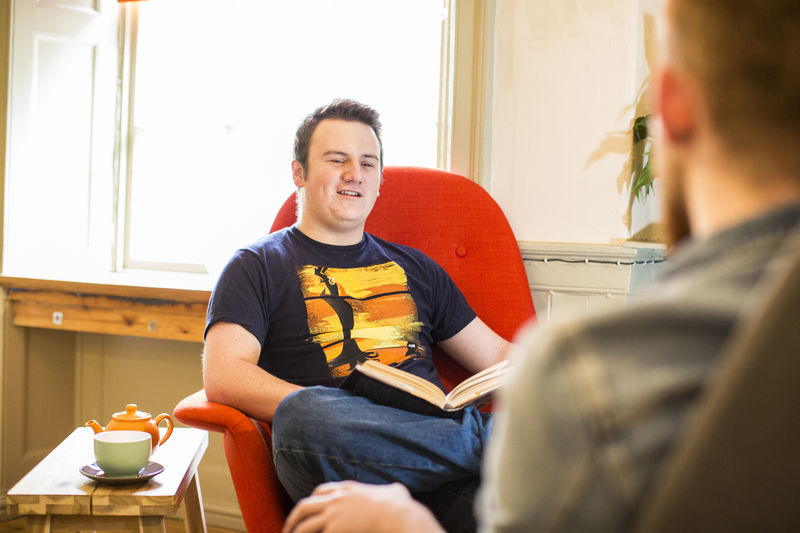 Referrals of potential Mentees
As a member of AU staff you may come into contact with students who you think will benefit from the help and support of a student Signpost Mentor. Please refer these students to the Mentee page and advise them to use the flowchart to see if Signpost could assist them. Students may then directly request a Signpost Mentor via the online request form. Students will then be assigned a Signpost Mentor as soon as possible.

Please note that if you require any further information or advice you may contact Student Support Services on student-support@aber.ac.uk or call direct on 01970 621761.
"When I was speaking to my mentor and finding out that they had some of the same thoughts that I had, or that they had made certain mistakes, I was granted the confidence and guidance I needed to progress and improve. Just the fact that I could talk to someone who had experience in doing exactly what I was doing, who had the same lecturers and assignments was incredibly helpful because I felt more assured with what I had to do to get the grades." -Signpost Mentee

Potential Mentors
Signpost Mentoring is undertaken by our older students (third or final year undergraduates and postgraduates) who are passionate about Mentoring and who are committed to helping their peers. If there are any students who you think would make a good Signpost Mentor then please encourage them to visit our Mentors page to find out more or they can apply directly via Aber Works at Easter time each year.
There is now a Mentor of the Year Award as part of the annual AberSU staff and student awards to acknowledge all of the important Mentoring work that is undertaken by our student Mentors at AU. Please mention this award to any students or tutees that you know of who are already being mentored to help and further promote the value of mentoring to our AU students.
If you have any questions please or see our FAQs