Signpost Mentoring
What is the Signpost Mentoring Scheme?
Signpost Mentoring is a scheme provided through Student Services to assist students who may need a bit of extra help with day to day university life.
Signpost Mentors are either second, third or final year undergraduates or postgraduate students. Signpost Mentors are trained by Student Services and they have all recently been 1st years themselves! Mentors are keen to listen and to help guide you through any problems you are having in a supportive, non-judgemental and friendly manner. Help can include : -
Settling down in University life: for example by directing to other University services and extra curricular activities etc
Achieving your potential: with, for example, time management advice and organisational skills development
Planning for the future: with getting work experience and helping to prepare for exams.
Signpost Mentors also have a good knowledge of specialist support services in the University and they can assist new students to access services, for example, in relation to Disabled Students Allowance (DSA), Study Support, Student Wellbeing services (including Mental Health Practitioner and Counselling Practitioner Support) and Student Finance.
Signpost Mentoring is private, confidential and completely non-judgemental.
"Signpost is a must for freshers. Whatever the issue or concern - big or small - they are there to help." - Signpost Mentee

Whilst Signpost is primarily targeted at new students with the aim of assisting with integration into student life, it is open to all students who wish to apply. We suggest you visit the Mentee page to see if we can help you. If you are staff or a parent / guardian see our specific pages on how mentoring can help students."
"My Signpost Mentor helped me find my way around the university of Aberystwyth. As I am an exchange student in my final year of my degree, it was a bit scary to arrive at a completely unknown University and it was reassuring to know that I always had someone to turn to who could help me." - Signpost Mentee
For more information on the impact of the Signpost Mentoring scheme take a look at aLTEF (Learning & Teaching Enhancement Fund) funded study
If you've been inspired and fit the above criteria, you can find out about the application process on the Mentors tab below.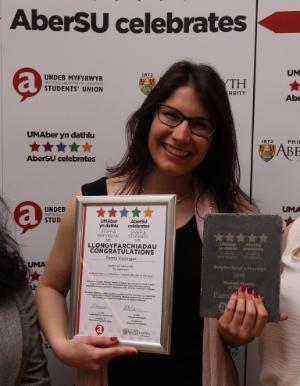 Signpost Mentor Panna Karlinger (Student Mentor of the Year)
Mentoring can make a real difference and many Mentees have benefitted from the support of their student peers. AberSU now include a Student Mentor of the Year award in the Staff and Student awards.
Running alongside the Signpost scheme there are also departmental specific Peer Mentoring schemes to provide more targeted department specific advice.
Mentees
What to expect from the scheme
If you request a Signpost Mentor you will be assigned a 2nd, 3rd or final year undergraduate or postgraduate student who has experienced much of what you are going through. Your Mentor will contact you as soon as possible to discuss the scheme, any problems and with a view to arranging a face to face meeting.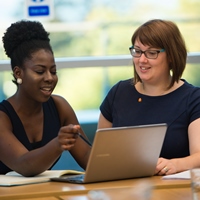 What a Mentor is:
A more experienced source of advice
A link to other AU services
A signpost to external resources
Someone to talk to confidentially
Signpost Mentors have a flexible approach but please note they are not:
Trained counsellors
Personal tutors
Medical professional
A 24/7 source of support
"The support I have received from my mentor has been invaluable. The assistance regarding the tougher parts of my course has helped me understand the methods in a more simplified way" -Signpost Mentee

For more information on the Mentor / Mentee relationship see our Signpost Guidance notes
Will Signpost Mentoring help me?
Check out our Signpost Mentoring Flow Chart to determine if Signpost would help you.
How to request a signpost mentor
To request a Signpost Mentor fill out the request form or contact signpost@aber.ac.uk.
Current mentees
For our current Mentees we hope that everything is working well for you and we appreciate any feedback to help continually improve the scheme.
Also feel free to ask us anything directly no matter the issue.
Mentors
Why become a mentor?
Whilst it may be clear how this scheme can benefit Mentees, there are also several benefits of getting involved as a Signpost Mentor. These include:
Employability: it's a great way to earn a bit of money whilst bolstering your CV!
Develop and improve your skills: including communication, active listening, organisation and time management
Get training in core mentoring practices
It's a great chance to share your experiences and to help others!
"Being a mentor has been one of the most rewarding experiences of my life. Through Signpost, I have had the opportunity to help students achieve their full potential, and the training and skills I have gained through the program I will be able to use for the rest of my life"- Signpost Mentor
Who should become a mentor?
Anyone who is a 2nd, 3rd or final year undergraduate student or a postgraduate in the next academic year will have the experiences and the necessary understanding to become a Signpost Mentor. The skills, attributes and knowledge we look for include:
A wide knowledge of Aberystwyth University systems services and societies
A desire to help students avoid the pitfalls of university life, with relevant experience at school, in clubs or at University being useful, but not essential
An understanding of the importance of confidentiality
Good time management and organisational skills
Good listening and communication skills (training is provided to enhance these)
Any specific experience in key areas (eg. Studying abroad, Mental health and Gender identity)
Welsh speakers are desirable but not essential.
"I really wanted to be involved in the mentoring scheme in order to be able to give back to the University that really helped me to grow as an individual. It was also great for developing skills for my CV and has been brought up in several interviews I have had since." -Signpost Mentor
How to become a mentor
The application process for prospective Signpost Mentors starts at Easter (in March or April) each year. At this time applications are welcomed from all students who will be either in their second, third (or final) year or postgraduates in the next academic year.
The vacancies are advertised on Aber Works at:
https://www.aber.ac.uk/en/hr/aberworks/
Please note that Students will need to be registered with Aber Works in order to access the vacancy information.
Details of the application process are also posted in the Weekly Email.
"I also wanted to thank you for the opportunity of being a signpost mentor this year and the support you have provided us all with. I have thoroughly enjoyed the experience and I have learnt many new skills!" - Signpost Mentor
Staff
Who might benefit from the scheme?
Any student that needs a little extra help with university life may benefit from having a student Signpost Mentor to talk to that will understand things on the same level. Common issues include
Homesickness
Accommodation
Finances and budgeting
Time management
Access to University services and support
Revision
Exams
Referrals of potential mentees
As a member of AU staff you may come into contact with students who you think will benefit from the help and support of a student Signpost Mentor. Please refer these students to this page and advise them to use the flowchart to see if Signpost could assist them. Students may then directly request a Signpost Mentor via the online request form. Students will then be assigned a Signpost Mentor as soon as possible.

Please note that if you require any further information or advice you may contact Student Support Services on student-support@aber.ac.uk or call direct on 01970 621761.
"When I was speaking to my mentor and finding out that they had some of the same thoughts that I had, or that they had made certain mistakes, I was granted the confidence and guidance I needed to progress and improve. Just the fact that I could talk to someone who had experience in doing exactly what I was doing, who had the same lecturers and assignments was incredibly helpful because I felt more assured with what I had to do to get the grades." -Signpost Mentee
Potential mentors
Signpost Mentoring is undertaken by our older students (second, third or final year undergraduates and postgraduates) who are passionate about Mentoring and who are committed to helping their peers. If there are any students who you think would make a good Signpost Mentor then please encourage them to visit this page to find out more, or they can apply directly via Aber Works at Easter time each year.
There is now a Mentor of the Year Award as part of the annual AberSU staff and student awards to acknowledge all of the important Mentoring work that is undertaken by our student Mentors at AU. Please mention this award to any students or tutees that you know of who are already being mentored to help and further promote the value of mentoring to our AU students.
Parents and guardians
What is the Scheme?
Signpost Mentoring is a scheme provided through the Department of Student Support and Careers Services to assist students who may need a bit of extra help with day to day university life.
Signpost Mentoring offers friendly, confidential, one-to-one advice on any aspect of university life by students for students.
"I just found it really helpful to be able to confide in someone who had completed this process before I had. -Signpost Mentee

Signpost Mentoring is primarily targeted at new students with the aim of helping our students to integrate into student life. However the scheme is available to all of our students who wish to apply. You could therefore suggest that your child/dependent takes a look at our Mentees section on this page to see if Signpost Mentoring will help.
"As an Italian Erasmus student, Signpost Mentoring helped me with how the UK assessment works. I would have been lost without it." -Signpost Mentee

As a parent or guardian we know that you will want to ensure the best possible help and support for your child. If you think that they could benefit from the Signpost Mentoring scheme but are unlikely to apply directly themselves please feel free to contact us with any queries or concerns. Alternatively you could discuss this by contacting Student Support Services on student-support@aber.ac.uk or call direct on 01970 621761.
You could also look at the Student Support Services web pages to see if there is anything else offered by the university which may be of benefit.
If you have any questions please or see our FAQs