Student Views
Garfield Lam, Postgraduate Certificate Digital Preservation by Distance Learning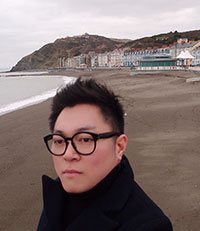 Working in archives is full of challenges especially when digital collections become obsolete. Digital archives are rapidly evolving and the knowledge acquired today can become irrelevant tomorrow. However, Aberystwyth offers me the flexibility and insight into this ever-changing area with the best 'on trend' knowledge, whilst working as the Reference Archivist at the University of Hong Kong.
Attending the study school was divine – the staff members are engaging, thoughtful, and they have given me a clear picture on all modules, excellent technical skills on working with the VLE, great advice on professional development and thorough explanations on all assessments. Visiting Aberystwyth also allows me to make new friends with my fellow classmates from all walks of lives, to enjoy the beautiful Welsh seaside town and to become part of the family of Aberystwyth University.
Distance learning is not easy – it requires a lot of self-discipline and the assessments are demanding but in-depth. People might think on campus learning is the only proper way to learn but intellectual access to knowledge should not be hindered by geographical distance. Technologies help everyone with access to libraries, archives and museums virtually and Aber provides a new paradigm of education with excellence.
Alison Stacey, MA Archives Administration by Distance Learning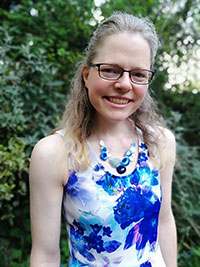 A friend recommended this course and I'm pleased I chose it: I really enjoyed it and have found it useful for my career. The course is hard work; I was only working part-time but still spent most Saturdays studying. I allowed myself several weeks off between finishing the required credits and attending the next Study School and I would recommend this. Another recommendation (if you are planning to do the dissertation) is to look out constantly for subjects which excite you. My dissertation concerned Magic Value in archives and this topic piqued my interest from my very first module. After that, I was able to keep the topic in mind and squeeze in background reading whenever possible. The dissertation study school proved to be incredibly helpful, so lap it all up! It's great to remain open-minded as to what you might enjoy, especially if you have archive experience already. I would never have guessed I would find preservation and conservation so interesting. That module, and the 'cataloguing a small archive' one, have been of particular ongoing use. Do join archive-related organisations (e.g. student membership of the Archives and Records Association, ARA) and attend events where possible. They can provide great essay inspiration! The Aber tutorial support is fantastic and tutors'/dissertation supervisors' advice is hugely valuable, so make the most of it. I recommend this course without hesitation. There's just one thing: you may find yourself falling in love with Aber whilst attending study schools (as I did) and miss it deeply when you leave…
Stephen Akintunde MA Information and Library Studies by Distance Learning
Can't think of any other place for my Masters: Right from the first welcome and orientation, staff made me feel really welcomed and were always willing to respond to questions and provide guides. The course presentation was simple but in-depth. My fellow students from all around the world provided a wonderful social environment of cultural intersection that reduced us all to one motivated and networking family. As a working Distance Learning student, this was just the perfect model for me – enabled me to translate classroom to practice in an incremental and convenient way, especially as University Librarian.
Louise Emery, BSc Information and Library Studies by Distance Learning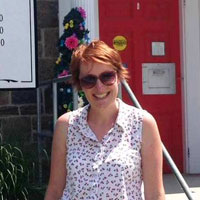 I began studying for my BSc in Information and library studies in 2013 via the distance learning program at Aberystwyth University and graduated with a first class degree. Studying in this way was ideal as it allowed me a financially viable way of furthering my education whilst continuing to work full-time.
The course content was highly relevant to my work as senior library assistant in a public library and because distance learning students set their own submission dates, the workload feels manageable and allows for changes in circumstances making it a very flexible method of study.
Attending the study schools at Aberystwyth was a really enjoyable experience and I made some great friends who supported and encouraged me through my studies and that I still keep in touch with.
In recognition of my achievements I have been given the opportunity to work alongside senior management to further my career development.
Katie Rickard, MSc Information and Library Studies by distance learning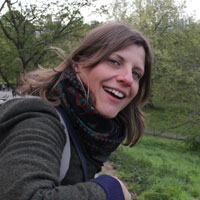 Becoming a part-time, distance learning student in Information and Library Studies at Aberystwyth University, helped me realise my goal of becoming a librarian. The course is designed to be flexible, which was absolutely critical for me. It allowed me to combine paid work and study, giving me the time and space to learn my 'craft' at a sustainable pace. This also benefitted my employer, who part-sponsored my degree, as I was able to apply what I learned directly to my work.
Course tutors and fellow-classmates - always on the end of the VLE and email – were endlessly supportive and encouraging. The established and varied portfolio of course modules on offer at Aberystwyth suited my needs and interests, and helped me to develop essential, new professional skills and knowledge, for example in leadership and management. I'm happy (and proud!) to say that I was promoted to the post of Subject Librarian just before finishing my full MA and now manage a small campus library, supporting post-graduate taught and research students, as well as undergraduate creative writers. I love my work. No day is the same, and the opportunities for continuing professional development and new challenges are infinite. Studying part-time has also encouraged me to keep researching in the profession alongside my day job. What next? Anything is possible….
Silvio Cortis, BSc Library and Information Studies, and MSc Management of Library and Information Services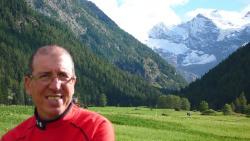 I had qualified in Nursing and spent a number of years working and practising with a good team in a medical ward. It was at this stage in my career when I took keen interest in observing closely the value and impact of information on clinical decision making and its outcome on the patient.
Time flies and now I have been working in the University of Malta Library for the past 30 years, 11 years of which occupying the post of Library Manager. This is thanks to Aberystwyth University in Wales where I studied and graduated with a BSc Hons in Library Science in 2003, and with a Master's degree in Management of Libraries and Information Services two years later. Since then, it has always been my pleasure encouraging my colleagues at work to follow this same path of professional studies by distance learning supported by yearly residential programmes of studies. While I was away from the residential study schools, studying and researching on my own but still working online with my colleagues as a team, always and altogether finding support from lecturing staff who were there available to help, has made Aberystwyth University to date still my first choice for further studies and research.
As a member of the University of Malta Library team, we are all committed to supporting higher standards of research and teaching, and every single member on campus plays an important role and contributes to an outstanding patron experience.
Erica Rae, BSc Information and Library Studies by Distance Learning
"Distance learning was the ideal way of mixing work and study"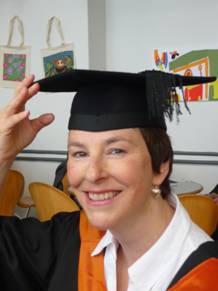 I love my degree! Stepping up on the stage at my degree ceremony was one of the proudest moments of my life, a long-held dream finally achieved.
Previously qualified as an Occupational Therapist, I'd been working in NHS libraries for some years, as it had always been librarianship I really wanted to do, and it was a good way of combining it with my paramedical background. But professional posts were always unattainable without the BSc, so I often found myself working at that level, but without the recognition or financial reward.

Distance learning was the ideal way of mixing work and study, with a household to run and family to look after as well. It was hard-going, and there were often times when I felt like giving up, but support and encouragement from colleagues and the staff at Aber all helped to keep me going. The flexibility of the course really does help you to fit it around your life, and the study schools are a great opportunity to socialise and spur you on to the next level. It's not always plain sailing, and it can take longer than you think it's going to, but just keep going and you'll get there in the end!
Liz Riley, BSc Information and Library Studies by Distance Learning
"...staff at Aberystwyth are friendly and approachable... "

In my experience, staff at Aberystwyth are friendly and approachable and always have time and a can do attitude. They have a natural enthusiasm and encourage and support, determined to get you through to the end – however long it takes.
As far as distance learning goes, the residential element of the course was essential to build up a network of contacts both on campus and off. As well as the business of study it gave me the opportunity to put names to faces, see what I was part of and to be a proper student for a while. It was also incredibly reassuring to be able to just chat with others and know that everyone suffers the same anxieties and difficulties – so, actually, you're just normal.
Katie Lancaster, MA Information and Library Studies by Distance Learning
"I would like to say how brilliant I think this course is"

I would like to say how brilliant I think this course is. I am in my second year and have never attempted something like this before. In addition, I am very new to the profession.
Everything from the course materials to the study schools and the online support have been fantastic. So much thought has gone into the preparation and organisation of everything that it has made me feel supported, yet suitably challenged every step of the way. I was daunted at the prospect of being new to distance learning and the profession, but the course has allowed me to learn new things about the profession which have informed the work I do in my day to day job.

This course, and the team who work hard to run it deserve every credit for what they are contributing to the Information and Library profession.
Ann Riordan, BSc Information and Library Studies by Distance Learning
"Studying for my BSc degree has given me confidence in both my academic ability and my role in the organisation."
Being a busy working mother, I found the studying pace ideal. I enjoyed the assignments and found them to be constantly work-relevant. I was impressed with the level of support I received from the staff and, although studying from abroad, I never felt isolated (unlike when I was a full-time student, one among thousands). I am now going on to do a Masters by distance learning, something I was only dreaming about a few years ago. But the best thing about the course was the friends I made. I felt sad when I finished!
Peter Siggery, BSc Information and Library Studies by Distance Learning
"Returning to education after more than thirty years was scary but with redundancy looming I needed a formal qualification and the Department of Information and Library Studies at Aberystwyth provided the answer."
The BSc in Information and Library Studies by distance learning allows me the flexibility to study at my own pace while still earning a living. The quality of the course modules together with the level of support from staff and other students takes away most of the fear that I won't be able to cope. I am learning at a distance from Aberystwyth but never feel that I am learning on my own. There is no doubt it is hard work and sometimes takes a lot to keep going, but I am determined to graduate and it is no longer just a qualification. It has become a very worthwhile experience.
Mark Williams MA Information and Library Studies by Distance Learning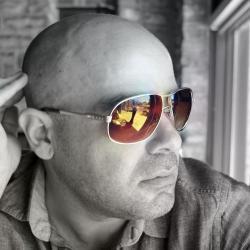 I have been a Chief Librarian, in Milton, Ontario, Canada's fastest growing town, for 18 Months and am the recipient of The American Library Association's John Iliff award for innovation and The Presidential Citation for International Innovation.
I can honestly say that having my Masters in Library and Information Science from Aber (through the Distance Learning programme) has been instrumental in each.
The quality of the teaching, the support I received throughout the duration of the studies (particularly during study school), the international reputation of Aber's Information Studies Department and the focus on innovation in the library realm has helped me to be a better librarian.
David Payne MSc Management of Library and Information Services by Distance Learning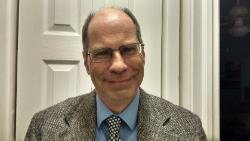 I was looking for a distance learning course which would be both challenging and engaging. With the helpful support of the Aber staff all my expectations were not just met, but exceeded.
The distance learning framework allowed me to pace my studies around my work and family needs. The study schools enhanced the experience, combining learning, and having fun.
The course has opened new horizons, equipping me with tools needed in library and information services management. My dissertation research has resulted in opportunities for article publications and conference presentations. Overall, my entire Aber experience has been immensely fulfilling.