Student Views
Louise Emery, BSc Information and Library Studies by distance learning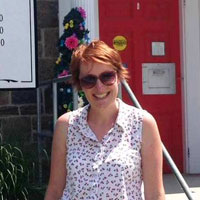 I began studying for my BSc Econ in Information and library studies in 2013 via the distance learning program at Aberystwyth University and graduated with a first class degree this summer. Studying in this way was ideal as it allowed me a financially viable way of furthering my education whilst continuing to work full-time.
The course content was highly relevant to my work as senior library assistant in a public library and because distance learning students set their own submission dates, the workload feels manageable and allows for changes in circumstances making it a very flexible method of study.
Attending the study schools at Aberystwyth was a really enjoyable experience and I made some great friends who supported and encouraged me through my studies and that I still keep in touch with.
In recognition of my achievements I have been given the opportunity to work alongside senior management to further my career development.
Katie Rickard, MSc Information and Library Studies by distance learning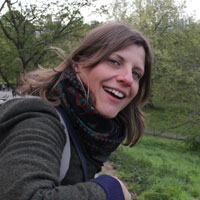 Becoming a part-time, distance learning student in Information and Library Studies at Aberystwyth University, helped me realise my goal of becoming a librarian. The course is designed to be flexible, which was absolutely critical for me. It allowed me to combine paid work and study, giving me the time and space to learn my 'craft' at a sustainable pace. This also benefitted my employer, who part-sponsored my degree, as I was able to apply what I learned directly to my work.
Course tutors and fellow-classmates - always on the end of the VLE and email – were endlessly supportive and encouraging. The established and varied portfolio of course modules on offer at Aber suited my needs and interests, and helped me to develop essential, new professional skills and knowledge, for example in leadership and management. I'm happy (and proud!) to say that I was promoted to the post of Subject Librarian just before finishing my full MSc and now manage a small campus library, supporting post-graduate taught and research students, as well as undergraduate creative writers. I love my work. No day is the same, and the opportunities for continuing professional development and new challenges are infinite. Studying part-time has also encouraged me to keep researching in the profession alongside my day job. What next? Anything is possible….
Salvatore Cortis, B.Sc.(Hons)(Wales),M.Sc.Econ.(Wales),D.L.I.S.
BSc and MSc MLIS graduate, Malta
"The helpful staff at Aberystwyth, the other students and the environment where I studied encouraged me to continue searching for opportunities for further research ..."
I have worked in the University of Malta Library for the last 21 years. I successfully completed the diploma course in librarianship in Malta in 1995. I was then asked to start giving lectures to students in the Department of Information and Library Studies locally. It was during this time that I got to know more about the distance learning courses that were offered by the University of Wales, Aberystwyth.
In 2000, I started the Aberystwyth BSc ILS and three years later combined the graduation ceremony with a good holiday with Sandra, my wife, in Wales. The cottage in North Wales (Trefriw - Llyn Crafnant) has since become our second home.
The helpful staff at Aberystwyth, the other students and the environment where I studied encouraged me to continue searching for opportunities for further research with the same university. I promptly enrolled on the Masters Management of Information and library Services course which I completed 2 years later.
I have kept in touch with members of the academic staff and they still provide me with the necessary assistance and guidance regarding my future hopes of expanding on my research topic of interest: the value and impact of information on clinical decision making. Now, as Library Manager, Reader Services with the University of Malta Library (following 10 years as Senior Assistant Librarian and 3 years as Deputy Head of Reader Services), I am able to contribute significantly to improving service provision for our patrons.
Erica Rae, BSc graduate, England
"Distance learning was the ideal way of mixing work and study"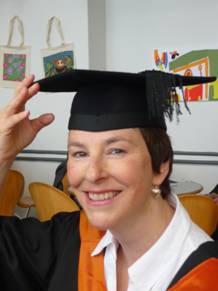 I love my degree! Stepping up on the stage at my degree ceremony was one of the proudest moments of my life, a long-held dream finally achieved.
Previously qualified as an Occupational Therapist, I'd been working in NHS libraries for some years, as it had always been librarianship I really wanted to do, and it was a good way of combining it with my paramedical background. But professional posts were always unattainable without the BSc, so I often found myself working at that level, but without the recognition or financial reward.

Distance learning was the ideal way of mixing work and study, with a household to run and family to look after as well. It was hard-going, and there were often times when I felt like giving up, but support and encouragement from colleagues and the Open Learning Unit staff at Aber all helped to keep me going. The flexibility of the course really does help you to fit it around your life, and the study schools are a great opportunity to socialise and spur you on to the next level. It's not always plain sailing, and it can take longer than you think it's going to, but just keep going and you'll get there in the end!
Liz Riley, BSc graduate, England
"...staff at Aberystwyth are friendly and approachable... "

In my experience, staff at Aberystwyth are friendly and approachable and always have time and a can do attitude. They have a natural enthusiasm and encourage and support, determined to get you through to the end – however long it takes.

As far as distance learning goes, the residential element of the course was essential to build up a network of contacts both on campus and off. As well as the business of study it gave me the opportunity to put names to faces, see what I was part of and to be a proper student for a while. It was also incredibly reassuring to be able to just chat with others and know that everyone suffers the same anxieties and difficulties – so, actually, you're just normal.
Katie Lancaster, MSc ILS student, England
"I would like to say how brilliant I think this course is"

I would like to say how brilliant I think this course is. I am in my second year and have never attempted something like this before. In addition, I am very new to the profession.

Everything from the course materials to the study schools and the online support have been fantastic. So much thought has gone into the preparation and organisation of everything that it has made me feel supported, yet suitably challenged every step of the way. I was daunted at the prospect of being new to distance learning and the profession, but the course has allowed me to learn new things about the profession which have informed the work I do in my day to day job.

This course, and the team who work hard to run it deserve every credit for what they are contributing to the Information and Library profession.
Rosemarie Magloire, BSc graduate, England
"I have worked as a library assistant for many years but, in my present post, I would have more chance of winning the lottery than gaining a promotion."
As in many school libraries, I am working as a librarian without the recognition or the financial benefit. Nevertheless, it's a job I enjoy so I'm making the best of it and BSc course gives me opportunities and flexibility:
career and personal development
I can continue to work full time
I can fit the modules around other commitments
The structure of the course is pretty straightforward, though the work is not. Trying to understand new concepts is difficult and it can be a struggle to deal with some of the reading and essay writing but the help and support the university offers is great. You can get in touch with staff by phone, email or letter and someone will always be there to lend a helping hand, a sympathetic ear or a boost of motivation. You can also get in touch with other students on the course to share the experience. So although at times you may feel alone, there are people to talk to. I never thought that it was going to be easy but I am optimistic that I will see it through because as they say 'There's no gain without pain' and with the help of family, friends and the University I'll do just that.
Wayne Dunbar, BSc graduate, Scotland
"The BSc course has opened my eyes to many aspects of library and information work which, until recently, I have not been able to get involved with."
Yes, it does involve a fair amount of work, but you will find that the staff at Aberystwyth and the friends you make at study school will give you encouragement to complete the course. The course means a lot to me. It will enable me to improve my work situation and give me more options for the future. Most of all, it has given me good friends all over the country.
Linda Erlendsdottir, MSc Management of Library and Information Services graduate, Iceland
"Three years ago I decided that it was time to add to my education."
Some of my colleagues here in Iceland had already gained a Masters degree by distance learning in Management of Library and Information Services at the University of Wales in Aberystwyth. All of them were very happy with their experience (even though they warned me it would be hard work!). Now I have finished two years and I have nothing but praise for the Open Learning Unit and the Department of Information Studies. It has not been easy working full time and coping with all the assignments and study which the course requires, but the staff have been extremely helpful with any problems that have arisen and encouraging in times when moral support was greatly needed. Thanks!
Ann Riordan, BSc graduate, Ireland
"Studying for my BSc degree has given me confidence in both my academic ability and my role in the organisation.
Being a busy working mother, I found the studying pace ideal. I enjoyed the assignments and found them to be constantly work-relevant. I was impressed with the level of support I received from the staff and, although studying from abroad, I never felt isolated (unlike when I was a full-time student, one among thousands). I am now going on to do a Masters by distance learning, something I was only dreaming about a few years ago. But the best thing about the course was the friends I made. I felt sad when I finished!
Peter Siggery, BSc graduate, England
"Returning to education after more than thirty years was scary but with redundancy looming I needed a formal qualification and the Department of Information and Library Studies at Aberystwyth provided the answer."
The BSc in Information and Library Studies by distance learning allows me the flexibility to study at my own pace while still earning a living. The quality of the course modules together with the level of support from staff and other students takes away most of the fear that I won't be able to cope. I am learning at a distance from Aberystwyth but never feel that I am learning on my own. There is no doubt it is hard work and sometimes takes a lot to keep going, but I am determined to graduate and it is no longer just a qualification. It has become a very worthwhile experience.
Janetta Honohan, MSc Management of Library and Information Services graduate, Norway
"For many years I wanted to do a Master's course at Aberystwyth where I had taken the postgraduate Diploma in 1978. But how?"
I was now married and divorced, with two children to take care of and a full-time job to hold on to. It seemed impossible. When I came across the ad' for the distance learning course I began to feel that perhaps this was possible after all. I sent away for brochures a few times (yes, in the plural!) before launching into the uncharted and exciting waters.The first two years of the course were challenging, interesting, demanding and most rewarding. I don't regret it an instant, apart from the assignment deadlines. The thesis is the icing on the cake - an opportunity to wallow in a subject close to my heart, and be able to spend up to two whole years doing so, with references and sources at my fingertips.Had I known that the course would be so valuable and stimulating, I would not have waited so long in applying.