Graduate recounts how qualification influenced his career.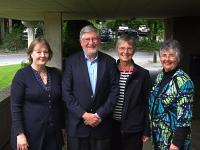 Dr Gayner Eyre, Dr John Cook, Dr Nancy Lane and Lecturer Lucy Tedd
We love to have past students come and visit us at the Department - the most recent was a special treat.
Dr John Cook called in on us for tea and biscuits when he and his wife, Dr Nancy Lane, were recently travelling around Europe. John studied on the PGDip in Librarianship during 1972-1973 and has since worked in several areas of librarianship and information work in Australia, including teaching librarianship, research and policy work in the Australian Public Service, and most recently as an adviser to the Hon Simon Crean MP as Leader of the Opposition and in government as Minister for Trade. During the visit members of staff met to share recollections.
For John, his time at the former College of Librarianship Wales was formative. He said "I'm extremely grateful for the experience I gained here - it shaped my future and opened up so many opportunities. Librarianship and information work has changed enormously over 40 years, but the principles of research and information retrieval that I learned at CLW have been the foundation of my work and career ever since. The College, now the Department of Information Studies, has also adapted to a changing world, and I wish it well for the future as part of Aberystwyth University."