DIS senior lecturer receives 'Highly Commended' at Emerald Literati Awards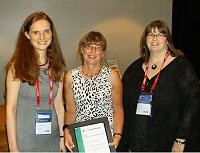 Dr Judy Broady-Preston received a Highly Commended Award in the 2012 Emerald Literati Awards for the following paper, jointly written with Alison Lobo:
Broady-Preston, J. and Lobo, A. (2011) Measuring the quality, value and impact of academic libraries: the role of external standards, Performance Measurement & Metrics: The International Journal for Library and Information Services, 12 (2), pp122-135. DOI 10.1108/14678041111149327
This is the second time in three years that Judy has received this award.
Judy is shown receiving her award from Rebecca Marsh (Emerald Director of Service Development) and Diane Heath (Emerald Publisher) at the Emerald Awards ceremony and reception held at the IFLA World Library and Information Congress 78th IFLA General Conference and Assembly. 11-17 August 2012, Helsinki, Finland