April Study School 2014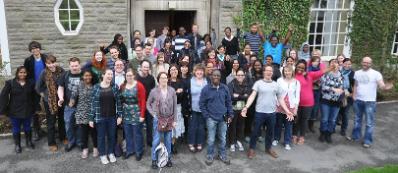 New intake of distance learners
The Department of Information Studies welcomed 75 new Postgraduate Students and 65 continuing students to Aberystwyth for the April 2014 Distance Learning residential school. The students stayed in Pantycelyn and classes were held in the newly refurbished Rheidol Building where students took over the staff student lounge and used the other new spaces to study, chat and generally network between classes.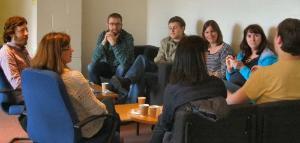 The students are studying part-time by distance learning for a degree in the Information field which will give them a professional qualification and enhance their career prospects; some even gain promotion while they are studying. They work in a wide range of relevant organisations mainly academic or public libraries, but also specialist and corporate organisations and archives, law and records offices.

They travelled from the UK and beyond and a total of 16 countries were represented. This included 30 new students from Trinidad and Tobago who are sponsored by NALIS (the National Library and Information System Authority) with whom the Department has developed a positive relationship over the past five years, with NALIS students successfully completing degrees at both postgraduate and undergraduate level . We also welcomed students from as far away as Uganda, USA, Canada, Cyprus and Saudi Arabia.
The students were here to attend a residential study school to start or support their on-going studies with the Department. There were three intensive days of introductions to modules that they will complete from home, study practice sessions, group work and individual meetings with personal tutors. The Dissertation Preparation Students followed a programme of research skills and dissertation workshops, and each student met with a potential academic supervisor to discuss their ideas for a research topic.
The school was supported with sessions from Information Services, and John Morgan on Writing Skills. A Guest Lecture was given Dr Aled Gruffydd Jones, Chief Executive and Librarian, National Library of Wales entitled, 'The National Library of Wales in a time of change'
Away from class, students and staff enjoyed a School Social meal at Ta Med Da, attended by the Institute Manager, Andy Henley and Avolon Thomas, Senior Human Resource Specialist at National Library and Information System Authority Trinidad.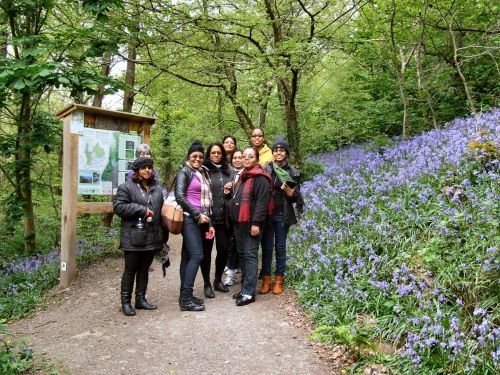 There was also a 'bluebell walk' in Penglais woods, a Poetry evening from the English Department's Tiffany Atkinson and a Pub Quiz in Brynamlwg hosted by the Department's Hugh Preston and Nicola Gower.
On the last day CILIP (the Chartered Institute of Library and Information Professionals) made a visit to the Department and talked about the professional association and future careers. Students from Trinidad stayed an extra night at Llety Park Hotel and were able to see some of the Rugby Sevens from their meeting room.
Overall, the students told us that they most enjoyed meeting or reuniting with each other and staff, the introductions to their academic studies, the Pub Quiz and the food! Here is what they had to say ….

"Lovely to spend some time on campus and visit Aberystwyth, in terms of identifying and feeling part of Aberystwyth University. Also great to meet the lecturers and tutors."
"I enjoyed the friendly welcome of staff and the beauty of the campus – spectacular. I found the school very encouraging - gave me new heart for the remainder of my studies and a sense of being part of a student/learning community, not just a solo struggler "
"The food has been great on both sites and not only that but the catering staff are so friendly and kind – a really impressive team. "
"A wonderful experience, looking forward to the next study school "
"I've really enjoyed the study school, it has been a big help in making me feel confident about approaching my studies"
"This has been an experience of a lifetime. I look forward to my successful completion."
"The Lecturers were very good and classes informative. Meeting people from other countries and interacting with them."
"Meeting people in the same field, having similar and varied experiences, which should help with assignments."