Lucy Tedd wins Jason Farradine Award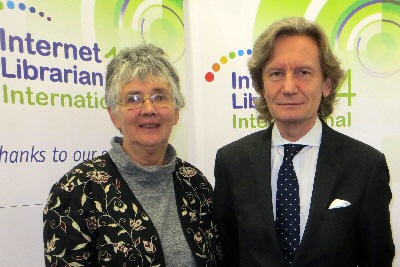 Lucy Tedd and Prof Blaise Cronin at the Awards ceremony
Lucy Tedd, who retired as a Lecturer in the Department of Information Studies at Aberystwyth University in 2012, has been presented with the Jason Farradane Award for 2014. The judges of this award chose two people for 2014, Lucy and Professor Blaise Cronin of Indiana University in the US.
Both were chosen for having demonstrated excellence in the teaching of information science and for raising the profile of the information profession. Lucy started work in this area in 1972 whilst at the then College of Librarianship Wales (now the Department of Information Studies, Aberystwyth)), and has since lectured, researched and written widely and been involved in numerous projects internationally.
The presentation was made at Olympia in London during the Internet Librarian International Conference 2014 on Wednesday 22nd October.