DIS celebrates 50 Years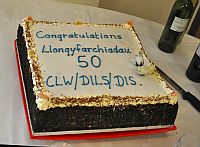 On December 18th 2014 the Department of Information Studies celebrated 50 years of providing quality courses in Information Studies.
Established in 1964 as the College of Librarianship Wales (CLW), with the aim of being a bilingual "school of librarianship in Wales", following the influential Roberts Report of 1959 and Bourdillon Report of 1962, CLW rapidly developed into an international institution, attracting students (and future library and archive leaders) from all over the world. As the Department of Information and Library Studies (DILS), the college became part of the University of Wales Aberystwyth in 1989.
Fifty staff, both past and present, attended a buffet lunch in Penbryn organised by Lucy Tedd, Mike Lowe and Geraint Evans - recently retired staff, all three of whom had been with the Department from the days of CLW up to the current Department of Information Studies!
Following an introductory speech by Geraint Evans, Frank Hogg, the first Principal of the College of Librarianship Wales, gave a speech, the main message of which was that the true legacy of this unique Department was in the minds of all the students and staff that had passed through it over the years, and who were now spread over the entire globe. Frank's vision had from the outset been that of a college that would appeal to prospective students from all over the world. This has been realised in many ways including the International Graduate Summer Schools (IGSS) which ran from 1973-2002, and of course the range of full time and distance learning courses in Information and Library Studies, Archive Administration and other courses, that have been running since 1993 allowing students from the UK and globally to combine study with work, and progress in their careers as information professionals.
An exhibition of photos and memorabilia documenting the 50 years of CLW, DILS and DIS was on display in the hall, leading to many reminiscences and interesting discussions. The event was highly enjoyable and engendered a real sense of community amongst those present.