DIS Student 2021 British Council Alumni Award Finalist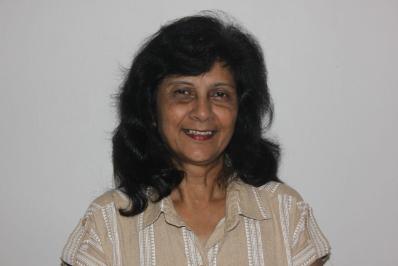 DIS Student 2021 British Council Alumni Award Finalist
The Department is delighted to announce that one of its former distance learning Master's students, Gayatree (Geeta) Ramlall, was recently short listed for a 2021 British Council Alumni Award in the Social Impact category. The Alumni Awards pay tribute to the impact that alumni of UK higher education institutions have had in their chosen field, and how this was sparked by their studies in the UK.
Geeta's library career began in 1979 when she started work for the Mauritius Ministry of Education as a library assistant. Several years later she completed the City and Guilds Certificate as a Library Assistant and in 1995 enrolled in a Diploma course sponsored by the Mauritius Ministry of Education for all library assistants. However, like many women in the library and information sector – Geeta was unable to complete a professional qualification due to family commitments and financial constraints. Aberystwyth University's Department of Information Studies has over 50 years' experience in providing high quality education in the information studies sector, including nearly 30 years of distance learning provision. DIS was able to recognise Geeta's prior learning and wealth of experience within the profession and offered her a place on its MSc Information and Library Studies by Distance Learning in 2012. As Geeta comments,
"I applied for a distance learning course in many universities, it was only Aberystwyth University which gave due recognition to my 30 years of work experience while considering my postgraduate degree application through the concept of 'credit for work experience'. I was also awarded a three years Commonwealth Scholarship, which helped me pursue my Master's degree at Aberystwyth. Studying at Aberystwyth University contributed in delivering my success as it provided me with a unique experience of a world-class quality higher education. I was given an insight into the latest library management tools, techniques and concepts. I was exposed to different teaching and learning methods; an approach that allow students to learn at their own pace and encourage them to cultivate their own independent creative thoughts…. Proudly graduating at Aberystwyth University at the age of 57 was the fulfilled dream of the teenage girl who could not access and afford UK education. Studying at Aberystwyth University successfully proved that age, life circumstances or finances were no barriers to quality education if one deserved it."
Since graduating in 2016, Geeta works as a Library Officer for the Mauritius Ministry of Education and also as a part-time lecturer in information and library studies at the Open University of Mauritius. Geeta has also gone on to develop a series of national and local projects focussing on improving access to libraries and supporting literacy for young people. She feels that her, "academic success and achievements in Library & Information Studies" gave her the "confidence to apply the knowledge and skills" she had gained and channel them into these projects.
In 2019, Geeta established 'Book a Smile' – a Non-governmental Organisation which aims to promote reading and literacy to all age groups in Mauritius. Whilst 'Book a Smile' is still in its infancy, it has already achieved a great deal, sponsoring the creation of a 'Learning Corner' at the Gayasingh Ashram orphanage and garnering the support of local bookshops and authors to donate and fund resources. 'Book a Smile' has also partnered with Maison de Paix, in Roche Bois to help the children who attend the school, many of whom come from vulnerable families and struggle with their literacy and reading skills.
The social impact of Geeta's work within the library and information sector is clear to see and she is a very deserving finalist within this British Council Alumni Award category which recognises the, "exceptional contribution and commitment to creating positive social change and improving the lives of others".
The Department would like to congratulate Geeta on her achievements and dedication to the profession and we wish her every continued success for the future.