Cloud computing project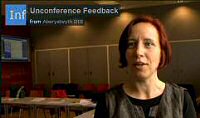 Nicole Schulz talking at the Cloud Computing unconference
Two Department of Information Studies lecturers have received funding from the Society of Archivists for a project looking into the issues surrounding the storage of information in the cloud. Over 8 months Kirsten Ferguson-Boucher and Nicole Schulz will research legal, operational and security issues and produce a toolkit for information professionals. A final report will be published by the Society of archivist at their annual conference in September 2010.
One part of the project was an unconference on cloud computing held in May at the Centre for Excellence in Enquiry-Based Learning (CEEBL) at Manchester University. It generated debate and highlighted some of the security and governance issues surrounding the storage of information in a virtual environment.
Paul Miller - Cloud Computing Unconference from Aberystwyth DIS on Vimeo.