Forgetting, remembering and records in the Cloud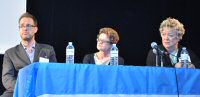 Department Lecturer Kirsten Ferguson-Boucher recently participated in a Canadian symposium with the engaging title 'The law of unintended consequences – The right to be forgotten, the duty to remember.' the Association of Canadian Archivists UBC Student Chapter organised the event "Inspired by current issues in social media, the web, and mobile communications, which are producing a documentary heritage quite different from the traditional".

Kirsten gave a joint paper with Dr Endicott-Popovsky of the Washington ischool relating to their joint research interests in this field, specifically Forensic Readiness and the Challenges of the Cloud.
Slides are available on the event website:
http://www.slais.ubc.ca/people/students/student-groups/aca/symposium2011/presentations/symposium/symposium2011_endicott-popovsky_ferguson-boucher.pdf
The presentation was followed by a panel discussion with Jean–François Blanchette, Assistant Professor, Department of Information Studies, University of California, Los Angeles, and sparked a lengthy and lively debate about cloud and record keeping issues, issues which significantly impact on wider society not just the archival, information and information specialists.
To quote the conference organisers, "anyone interested in heritage and memory should be engaging with the challenges we face both from the view point of the ease of criminal involvement and the difficulty in tracing peoples actions but also the ease of inadvertent alteration and the difficulty in maintain authenticity and integrity."