Ms Tanya Rogers
BSc (Joint Hons) Psychology & Sociology; PGCE Adult and Secondary Education; MSc Psychological Research Methods (Distinction); FHEA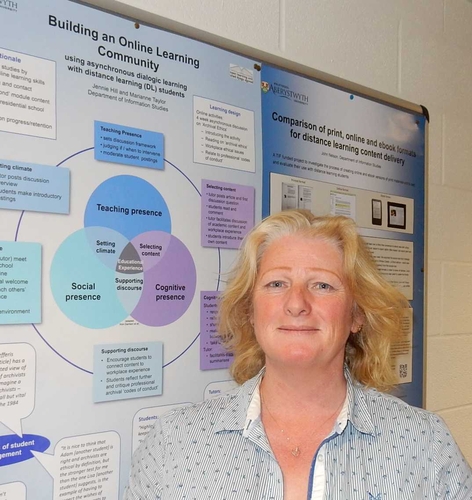 Profile
I am a qualified and experienced teacher for Higher Education, Further Education, and Secondary Education.
My professional expertise is in learning design, especially for distance learning. As Development Officer: Executive Producer in open and distance learning in DIS, I work with an expert team of colleagues,to:

Manage the development, design, and delivery of distance learning content
Coordinate CPD (Continuing Professional Development) course development and delivery
Provide advice and consultancy on learning design, policy, student support, system support, and strategy for distance learning

… and I:

Personal tutor for distance learners (undergraduate and postgraduate)
Teach (research ethics; quantitative research methods; learning design; information literacy; academic skills; … )
Mentor and train staff via CDSAP and externally
Offer consultancy and training (UK and internationally) in the design and development of distance learning courses, e.g.: Ford Motor Company & University East Anglia; ATP IBERS; The Britten Pears Foundation with The Music Libraries Trust & IAML; Antiquarian Booksellers Association; KEF funded Mid-Wales Business Online Support Service (BOSS); NOF funded ICT Training Wales; …etc.
Additional Information
1993 a founding member for the DIS's Open Learning Unit (OLU) - set up to develop, support and promote high-quality education through open and distance learning - based on the principles of flexible student-centred learning.
University: I continue (part-time) to develop distance learning policy, content, support systems; expand CPD provision; and work with those interested in developing distance learning. I am a member of EDEN European Distance and E-Learning Network; and Fellow of HEA.
Farming: Outside part-time University work, I am a tenant farmer on a remote hill farm in Elan Valley. A working farm; employing 30+ seasonal staff & students. Farmed in partnership with nature; we are custodians of:

the heritage of hardy native livestock
the SSSI habitat of the whole farm

Member of farming & environment groups e.g. FWAG; NFFN, TFA, steward committee member the Royal Welsh.
Teaching
Lecturer
Aspire Admin
Assistant
Course Builder
Tutor
Undergraduate & Postgraduate:

Learning Design
Research Ethics
Research Methods
Literacy & Learning
Academic Skills & Presentation Skills
Evaluation of Learning Design
Research
Professional research interests include: Learning design; Learning analytics; Models of distance learner support; Assessment methods for reflective workplace practice
Evidence-based practice (grey literature): ongoing data analysis for workplace practice e.g.:

Rogers, T., & Nelson, J. (2014) Data analysis of distance learner tracking database - Intakes 2009-2013 for all UG & PG distance learning courses, Aberystwyth, Open Learning Unit, Department of Information Studies, Aberystwyth University.
Rogers, T., Jenkins, J., Lithgow, S., Nelson, J., Spittle, M., Taylor, M. (2014) 'Distance learners are different, so what makes for successful distance learning?', joint OLU & ATP discussion forum and paper, HEA Future Directions Conference, Aberystwyth, 2nd April 2014.

Some early distance initiative publications:

Rogers, T., and Nelson, J. 'Supporting open and distance learners with computer conferencing: potential benefits and barriers.' Psychology Learning and Teaching, 2(2), December 2002: 127-133.
Rogers, T. and Roberts, H. 'Supporting distance learners: the Aberystwyth model', Proceedings of Current Issues in Distance Learning, Loughborough, 15th-16th January 1998. Flexible Learning Initiative, UK.
Urquhart, C., Hornby, S., Rogers, T., and Bawden, D. 'The health information practitioner as learner and educator', Education for Information, 16(1), Spring 1998.
Barber, J. and Rogers, T. 'Aberystwyth at a distance'. Flexibility in course provision in higher education news, January 1994.
Responsibilities
Manage the development, design, and delivery of distance learning content and resources
Oversee the quality, consistency, and standard of distance learning content
Coordinate CPD Short Courses (Continuing Professional Development)
Offer advice and consultancy on learning/instructional design, and distance learning strategy, policy, support, and service delivery
Personal tutor (distance learners)
Teach (research ethics; quantitative research methods; learning design; information literacy; academic skills; … )
Office Hours (Student Contact Times)
Thursday 14:00-16:00
Friday 10:00-12:00