Student visa - applying outside of the UK
A student's journey
1
Collect all your 'Supporting documents needed to apply for a Student visa'.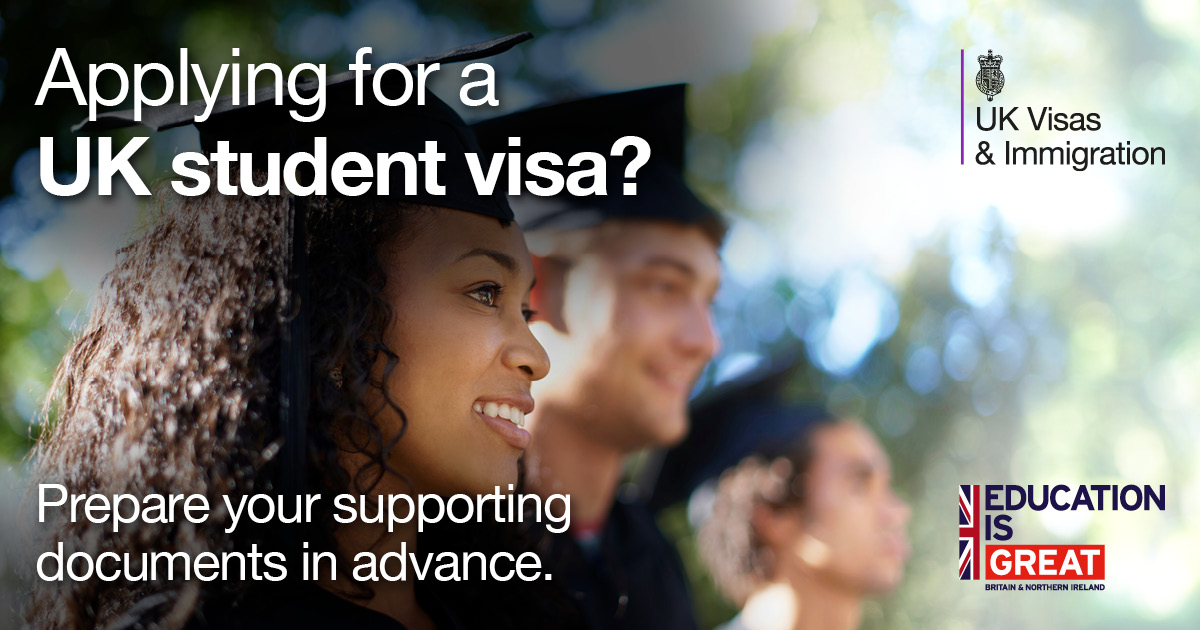 Supporting documents
2
Complete a 'Student visa' application form by following the instructions on the visa tutorial.
Visa Tutorial
3
Pay the Immigration Health Surcharge, calculated at £470 per 12 months, based on the length of leave that you are granted. To help you calculate how much you will have to pay, please see the the calculator.
Surcharge Calculator
4
Pay the Student visa application fee, currently £348, paid in the local currency of the country that you are applying from.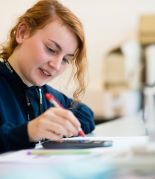 5
Make an appointment at your Visa Application Centre. Due to the current Coronavirus COVID-19 pandemic some Visa Application Centres are closed until further notice. To find out if your local VAC is open, please contact TLS Contact (Europe, Africa and parts of Middle East), or VFS Global (rest of world).
EU/EEA/Swiss nationals whose passports have a biometric chip will not be required to make an appointment. Instead, you use the UK Immigration ID check app to scan and upload your passport and a photo. You will be directed to the app as part of the visa application process.
Visa Application Centre
6
Attend your visa appointment to submit all your supporting documents, provide your biometric data, and attend credibility interview.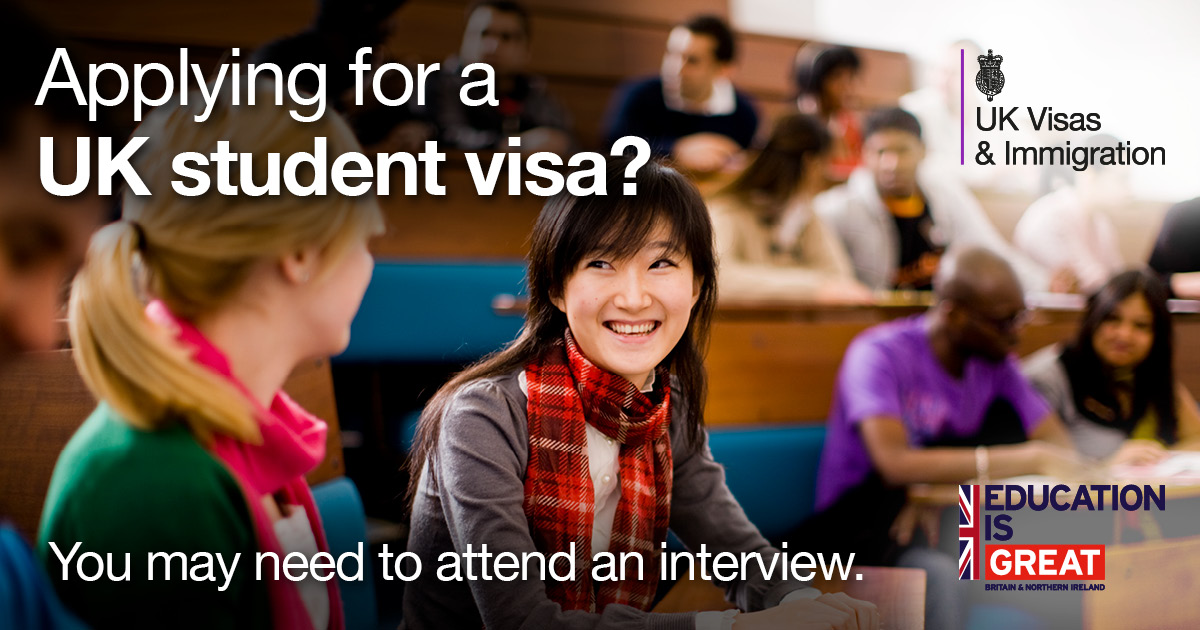 7
You should receive a decision on your Student visa within 3 to 4 weeks from the date that you attend your visa appointment. In some countries it is possible to pay an additional 'priority fee' of £220 or in some cases an additional 'super priority fee' of £956 to have your application processed more quickly.
8
Contact the International Student Adviser if you have any questions or need help with applying for your visa.

Email immigrationadvice@aber.ac.uk
Resources
How much money do I need to show for my visa application?
You need to show that you have enough money for your:
Tuition fees for your first period of study. The amount you need to show will be in your CAS email.
PLUS
Living expenses:
Students have to show that they have £1,023 per month to cover their living costs, for a maximum of 9 months, i.e. £9,207 for a full academic year (Dependants £680 per month/per person, i.e. £6,120 for a full academic year).
If you live in University accommodation, you can deduct money you have paid to the University from the total amount of living costs. A maximum of £1,265 can be deducted (even if you have paid more than this).
All funds must have been available to you for a minimum period of 28 continuous days on the date that you apply for your visa.
How do I prove I have enough money for my visa application?
The immigration rules are very strict about the financial documents you must show to prove you have enough money to support yourself (and your dependants if you have any) whilst you are studying in the UK .
You will need to provide evidence of one, or a combination of the following:
1. Cash in a bank account. Cash in your, or a parent or legal guardian's, bank account for a 28 day period - see more information about bank statements you need to provide.
IMPORTANT: If you are using your bank account or the bank account of your parents or legal guardian, the money must be held in cash and you must show that you have held the money in your, your parents', or your legal guardians' bank account for at least 28 continuous days. Your balance must not have dropped below the required amount. If the balance has dropped below the right amount even for just 1 day, you will not meet the financial requirements and your student visa will be rejected.
The date of the bank statement must not be more than 31 days old on the date that you submit your visa application.
Property, shares, bonds, pension funds, life insurance or similar savings accounts will not be accepted.
The money must not be held in a bank or a financial institution which UKVI view as untrustworthy.
2. Loan. A loan must be a student loan provided by: a government; or, a government sponsored student loan company; or, an officially regulated academic or educational loans scheme.
3. Letter from an official financial or government sponsor UKVI define an "official sponsor" as:
Your country's government or the UK government
British Council
Any international organisation
Any international company
Any University
A UK independent school
If I am using a bank account, what evidence do I need to provide?
If you are using your own personal bank account, you need to provide your original bank statement in your name covering a 28 day period.
The date of the bank statement must be no more than 1 month old at the time you submit your student visa application.
Your original personal bank statement must show:
your name
account number
the date of statement
the name and logo of the bank
that the balance has not fallen below the required amount for the full 28 day period.
If you use electronic statements then as well as including all the standard required information, they must also either be stamped on every page, or be accompanied by a supporting letter from the bank or building society confirming that the statement is authentic. You cannot use mini-statements from automatic teller machines (ATMs).
Cash in a parent or legal guardian's accountIf you are using cash in a bank account in your parent or legal guardian's then you must include your parents' or legal guardian's original bank statement including all the same information as on the personal bank statement. Your parents must write a letter saying that they will support you financially for the duration of your course.
If your parents or legal guardians are providing your tuition fees and living costs, you must also prove that they are your parents or legal guardians.
You do this by providing one of the following:
your original birth certificate, showing the name of your parents
certificate of adoption showing your name
original court documents stating the name of your legal guardian
Overseas Banks Statements
You can use an overseas bank account. However, if your funds are not in pounds sterling (£), you should convert the closing balance and write this sum on the document that you are using as evidence of your finances. The Home Office uses http://www.oanda.com/ to convert currencies into pounds sterling, so you must use this exchange rate too.
Funds will not be considered if they are held in a financial institution where any of the following apply:
the Home Office is unable to make satisfactory verification checks; or
the financial institution is not regulated by the appropriate regulatory body for the country in which that institution is operating; or
the financial institution does not use electronic record keeping.
What evidence do I need if I have an official sponsor?
UKVI define an official sponsor as one of the following:
The UK Government or your government in your home country
The British Council
An international organisation
An international company
Any University
A UK Indepedent school
If your official financial sponsor is paying all your tuition fees and living expenses, you do not have to provide separate evidence of your savings. However, you must provide a letter from your official financial sponsor confirming that your sponsor will pay all your tuition fees and living expenses. This letter must be on official letterhead paper showing:
Your name
The name and contact details of the official financial sponsor
The date of the letter
The length of the sponsorship – start and end date
The amount of money the sponsor is giving you or confirmation that they will pay all your tuition fees and living expenses
The official stamp of the organisation
If your sponsor only pays some of your costs, you will need a letter from them and proof that you have enough money yourself to meet the rest of the maintenance requirements (e.g. personal bank statements).
Can I make deductions if I have paid some fees?
Yes, you can deduct the following from the total amount of money you need:
the amount you have paid towards course fees
and
up to a maximum of £1,265 you have paid towards your Aberystwyth University accommodation fees
You cannot deduct anything for accommodation fees if you arranged the accommodation yourself (in other words, private accommodation).
If you pay all or some of your tuition fees to Aberystwyth University before we send you the CAS email, then the amount you have paid for your tuition fees will be notified directly to the UKVI and recorded in the CAS email.
We do not recommend that you pay any fees between receiving your CAS email and applying for your visa.
If any money you have paid for tuition fees or University accommodation fees is not shown on the CAS email, then you must provide official receipts from the University when you submit your student visa application. You can obtain receipts by emailing fees@aber.ac.uk.
When can I apply for my Student visa?
You can apply for your visa up to 6 months before the start date of your course.
The time required to process your visa will depend on the country where you are making your application but is likely to take around 4 weeks, so you must start the process early.
The UKVI webpages lists recent processing times for visa applications from different countries.
You must use the information on your Confirmation of Acceptance for Study – CAS email, sent to you by Aberystwyth University to apply for your Student visa. Your CAS must not be more than 6 months old when you apply for your student visa. If you use it after this date, your application will be refused.
Do I need to attend an interview as part of visa process?
Credibility Interviews
If you are not from a low risk country, then as part of your visa application you will be required to attend a short interview at a visa application centre. The interview will focus on your reason for coming to the UK, this is known as a credibility interview. You will be asked questions about your immigration history, your previous education, the course you are planning to study at Aberystwyth University, your post study plans and your financial circumstances.
If you do not attend this interview without a good reason, your application will be refused.
You should be able to answer the questions at the interview without the assistance of an interpreter and to a standard that matches the English Language requirements that are stated on your CAS.
It is important to prepare for the interview and to help you, here are some examples of the types of questions that you may be asked:
Why you want to study in the UK:
if you are going back to education after a long break from studying you should be prepared to explain why you have chosen to do this;
how studying this course will help with your future plans;
how this course fits in with any previous courses you have done.
You should know the following details of your course at Aberystwyth University:
how long your course is;
what modules you will be studying;
how you will be assessed;
how many students will there be on your course;
what qualification you will receive at the end of your course;
whether the course offers any professional qualifications/recognition;
why you have chosen not to study this course in your home country.
You should know some details about Aberystwyth University, for example you may be asked:
where Aberystwyth is in the UK;
how big the University is;
why you chose to study at Aberystwyth;
what other places you considered.
You should not be asked about your academic ability to follow the course, as Aberystwyth University has already assessed this.
Here are some examples of things you may be asked about your finances:
if the money you have shown for your application is genuinely available to you;
who is financing your studies;
the profession of your financial sponsor and what relationship they are to you;
whether you have evidence of the financial status of your financial sponsor; e.g. current bank statements
if you have a loan, you may be asked how you plan to pay this back.
You should know some details about the cost of living and studying in the UK, for example, you may be asked:
how much your tuition fees are and when you are paying them;
where you are planning to live and how much it will cost;
what your anticipated annual living expenses will be while you are studying at Aberystwyth;
if you are planning on working, whether you know how many hours you are allowed to work, and how much you are likely to be paid;
how reliant you are on being able to work.
What happens after the credibility interview?
A report of the interview will be sent to the visa officer who will consider it alongside your visa application and supporting documents. You may be called for a further interview if the visa officer needs more information.
What happens if I am refused a visa?
If your application is refused on the basis of your answers to these questions at interview, then you can request that the decision is reviewed by an entry clearance manager.
You have 28 days from the date of the refusal notice to submit a request for an entry clearance manager review. The request should be made in writing and should state why the reasons given in your refusal notice are incorrect.
Am I a low risk national and if so what does this mean?
You are considered to be a low risk national by UK immigration officials (UKVI) if you are from one of the following countries:
Australia
Bahrain
Barbados
Brazil
Botswana
British National Overseas
Brunei
Cambodia
Canada
Chile
China
The Dominican Republic
EU and EEA countries
Indonesia
Hong Kong
Japan
Kazakhstan
Kuwait
Malaysia
Mauritius
Mexico
New Zealand
Oman
Peru
Qatar
Serbia
Singapore
South Korea

Switzerland

Thailand
Taiwan (those who hold a passport issued by Taiwan that includes the number of the identification card issued by the competent authority in Taiwan)
Tunisia
United Arab Emirates
United States of America
If you are a national of one of these countries you do not always have to provide your qualifications or evidence of your maintenance funds.
However, the Immigration Officials reserve the right to request the full range of documents in all cases. Therefore you MUST have these documents just in case. UKVI change the list of low risk nationals annually, so please check to country is still on the list. Further advice is available from http://www.ukcisa.org.uk/Information--Advice/Visas-and-Immigration/Tier-4-eligibility-and-requirements
How long will it take to get my visa?
It can take up to 3 to 4 weeks after you attend your appointment to get your visa. The time it takes will depend on the visa application centre you apply to.
In some countries it is possible to pay an additional 'priority fee' of £220 or in some cases an additional 'super priority fee' of £956 to have your application processed more quickly.
When can I come to the UK?
You will be able to come to the UK up to 1 month before your course start date if your student visa is for a course of 6 months or more (undergraduate or postgraduate courses), or for a pre-sessional English language course.
You will only be able to come to the UK 7 days before the course start date if you are coming for a course that is less than 6 months, and is not a pre-sessional English language course.
The start date of the course will be stated in the CAS email you receive from Aberystwyth University.
Can I bring my family with me to the UK?
Before making the decision about whether to bring your family to Aberystwyth, you will need to consider whether the immigration rules allow them into the UK, your financial position and whether your partner and children will adapt to life in the UK.
UKVI only allow your "dependants" to obtain visas to come and live with you in the UK. A "dependant" is your partner/husband/wife and any dependant children you may have. They can stay with you in the UK if:
You are government sponsored and your course is over 6 months long or
You are doing a postgraduate level course of 9 months or longer.
More information on bringing your dependants with you is available from the UKCISA website http://www.ukcisa.org.uk/Information--Advice/Visas-and-Immigration/Dependants
You will need to complete a separate on-line application form for each dependant available from here https://visas-immigration.service.gov.uk/apply-visa-type/dependant.
You must make your preparations well in advance. It is particularly important that you ensure that your finances are arranged and that you have organised suitable accommodation for you and your family.
When can I collect my BRP?
If your visa application is successful, you will be issued with a entry 'vignette' visa on your passport which is valid for 30 days (90 days during the Covid-19 pandemic) from the date you indicated as your intended travel date in your visa application. The vignette is proof only of your permission to enter the UK. If you do not travel to the UK within this 30 day (90 days during the Covid-19 pandemic) period, your entry visa will expire and you will need to apply and pay for another entry visa. You will also be issued with a decision letter from the Home Office which will give you instructions on how to collect your biometric residence permit.
Your final visa will be issued as a biometric residence permit, also known as a BRP. You must collect your BRP within 10 days of arrival in the UK from the main Post Office in Aberystwyth, the main Post Office is located inside the branch of W.H. Smiths, 36 Terrace Road, Aberystwyth, Dyfed SY23 2AB.