Developing Europe's Rural Regions in the Era of Globalisation (DERREG)
Globalization is one of the key challenges facing rural regions in Europe, bringing significant social, economic, cultural and political changes. Current studies on the impact of globalization on rural regions tend to focus on specific sectors or processes or localities. The absence of an overarching integrative analysis has been an obstacle limiting effective regional development strategies to cope with these challenges. Under the leadership of Professor Mike Woods, DERREG aims to produce an interpretative model that will enable researchers and regional development actors to better anticipate and respond to the key challenges posed by globalization for rural regions.
DERREG will undertake empirical research in four thematic work packages:
Global engagement and the local embeddedness of rural businesses
International mobility and migration of rural populations
Environmental capital and sustainable rural development
Capacity building, governance and knowledge systems
A further work package will synthesize findings from these studies to produce an integrated analysis.

Case Study Areas: Research will be carried out in 10 case study regions: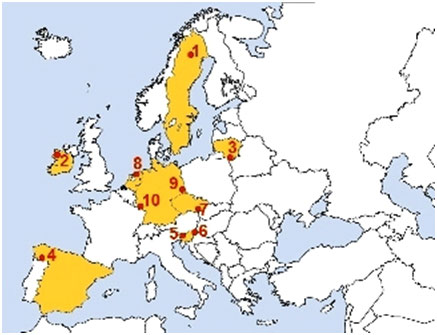 Oevre Norrland, Sweden
West Region, Ireland
Alytus, Lithuania
Comarca de Verín, Spain
Goriška region, Slovenia
Pomurska region, Slovenia
Jihomoravský kraj, Czech Republic
Westerkwartier, the Netherlands
Regierungsbezirk Dresden, Germany
Saarland, Germany