Unpacked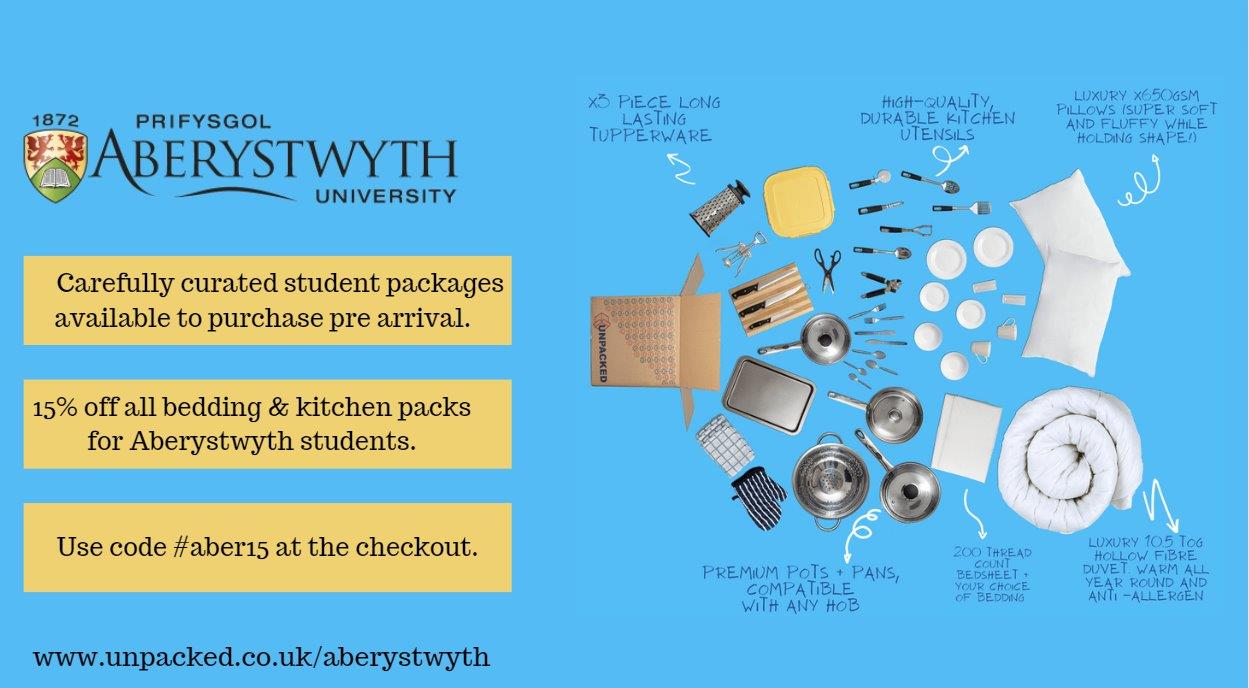 Essential Student Packs with 15% discount!
How do we work with our partners at Unpacked?
When our students move to Aberystwyth university we know there are so many things they and their parents have to consider, plan and think about. Why not take the hassle out of buying and transporting your bedding and kitchen items by pre-ordering from our friends and partners at Unpacked.co.uk?
Students from overseas and the UK now have access to a range of bedding and kitchen packages and extra homeware items to make cooking, dining and sleeping more comfortable and enjoyable! Cooking and dining with friends especially is a huge part of university life and we know a lot of our students want these kinds of essential items waiting for them when they arrive.
Ordering from Unpacked is straightforward, choose the packages and other items you would like delivered, add them to your box and checkout. Choose your delivery date and address at the checkout. Remember to use the discount code #aber15 for 15% off of your order.
The pack will be pre-delivered directly to your residence so it's there ready and waiting for you when you arrive, leaving you more time to get to know the campus, get to grips with your course and meet other students.
Please note:
Please check your bed size before you place your order. Some residences have varying bed sizes, so to avoid disappointment we recommend that you check your residence page on our accommodation options webpage.
In order for these items to be delivered before your arrival, you must order within enough time. This will give Unpacked time to pack your goods and send them to your residence.
For any enquiries relating to product information or delivery schedules please contact Unpacked directly on +44800 612 5884 / info@unpacked.co.uk
Aberystwyth University is not responsible for the content of external websites and therefore, the site may not be available through the medium of Welsh.
For further information relating to how we work with Upacked regarding collection and sharing of your personal data please visit Campus Services Data Protection Information webpage.