Individual Study Rooms (Carrels) - Hugh Owen Library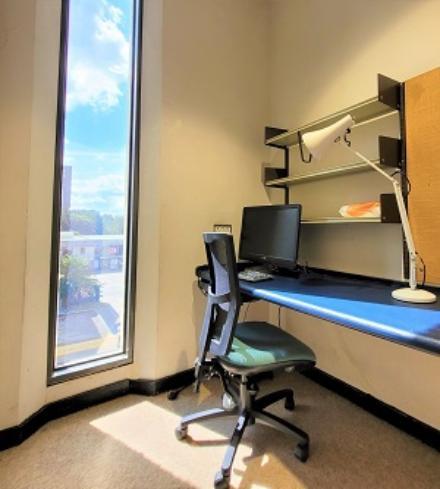 There are a number of study rooms on Level F of the Hugh Owen Library which are available for individual, silent study.
These rooms:
are free to use
have either a PC or a monitor hub in them
have wifi
are suitable for individual use only
are suitable for silent study only as they are not sound proof
can be booked for up to 4 hours
If you wish to make use of one of these rooms you can book via this page. Choose either a room with a PC or a room with a monitor hub.
You can check the availability of these rooms by following the guidance in our FAQ.
You will be sent a calendar invite and your booking information will be shown on the screen outside the door.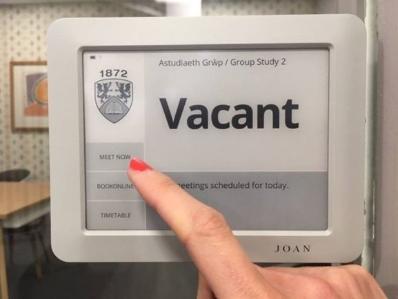 If you have not made a booking and the room is vacant you can click on Meet now to make an immediate booking
For room locations please see Hugh Owen Library - Level F Floor Plan
When using these rooms please observe the following:
Silent study only - these rooms are not sound proofed so not suitable for taking part in online learning sessions or meetings
Personal electrical appliances (other than laptops) are not permitted
If using headphones, make sure you are able to hear the fire alarm
Leave the room promptly at the end of your booking
Leave the room clean and tidy and remove all items including rubbish at the end of your booking
Your safety
To protect yourself and others we ask that:
You sanitise your hands on entering, and regularly while using, the library.
You use your own Aber Card to swipe to enter and exit the library.
You do not come to the library if you are unwell.
We will ensure
Staff working in the library are following recommended hygiene practises.
Regular cleaning is carried out.
There are hand sanitising stations at the entrance.
There are sanitising wipes available for you to wipe down surfaces as needed