Study spaces in the Library
There are a variety of silent, individual and group study spaces available in the Iris de Freitas Room and on Levels E & F of the Hugh Owen Library.
Levels E & F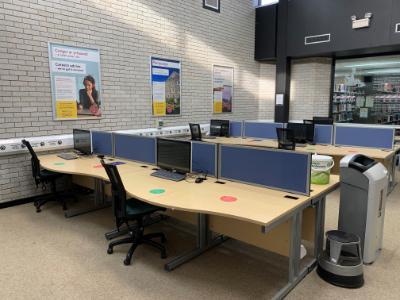 Access
There is no need to book to access Levels E and F and you are able to browse the collections.
You must book the individual and group study rooms in advance
Please check the opening hours for these spaces as they vary depending on whether it is term time or vacation. If you can't find a time that suits you, please get in touch is@aber.ac.uk
You will need to bring your Aber Card with you to use the study spaces
How to get to Levels E and F
Come into the Library through the main entrance and up the stairs at the far end of Level D: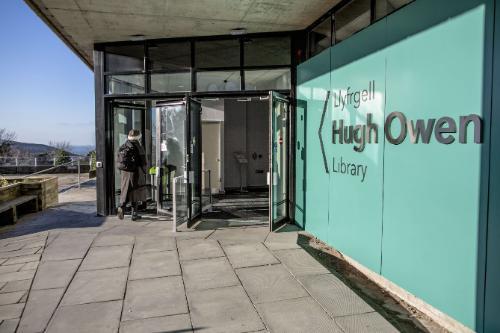 Iris de Freitas Room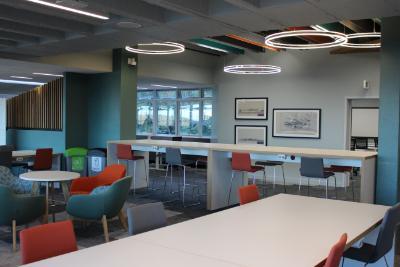 The Iris de Freitas Room currently provides access to:
Individual study spaces
Individual study spaces with PCs
1 printer/photocopier/scanner
Water refill station
2 individual study rooms with computers
3 group study rooms
Access
You do not need to book to study in Iris de Freitas but you do need to book in advance to use the study rooms.
You will need to bring your Aber Card with you to use the study spaces
Here's how to find the Iris de Freitas Room:
Come into the library through the main entrance and go to Level E. From the stairs, turn right, go past the two study rooms and you'll see the entrance to the Iris de Freitas Room through the next door on your right.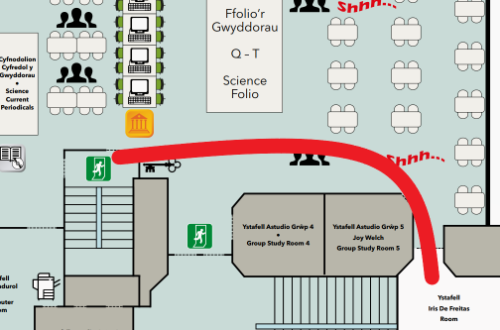 Your safety
To protect yourself and others we ask that:
You sanitise your hands on entering, and regularly while using, the library.
You wipe work surfaces, keyboards, mice, printers etc before and after use.
You only sit at designated workspaces
You observe the 2 metre social distancing rule or work in groups of 6 or less (group study rooms only)
You use your own Aber Card to swipe to enter and exit the library.
You wear a face coverings at all times, unless exempt.
You do not come to the library if you are unwell. The main symptoms of COVID-19 are:

new continuous cough;
high temperature;
loss of or change to your normal sense of smell or taste (anosmia).
We will ensure
The numbers of users in the library at any one time are strictly limited.
Staff working in the library are following recommended hygiene practises.
Regular cleaning is carried out.
There are hand sanitising stations at the entrance and throughout the building.