Overview
Cwrt Mawr is situated at the top of the Penglais Campus close to Trefloyne and Rosser halls of residences. Many of the rooms also embrace fine views of the town and the bay, which are just a ten minute walk away.
Accommodation
Cwrt Mawr consists of flats within blocks. Each block has 6 self-contained flats comprising between 6 and 10 single bedrooms. Residents will also have access to a shared shower room(s), toilets and a shared kitchen area with a soft seating area as well as having a wash basin within their room.
Catering
Students in Cwrt Mawr are self-catering, sharing kitchens in self-contained flats. Cwrt Mawr is located within a 5 minute walk of CK's supermarket, or alternatively residents can shop at the larger supermarkets in the town.
However, if you also like the sound of using our catering facilities you can load your Aber Card with money, or family/friends can top it up on your behalf, to use at any of our outlets - you will also benefit from the 10% discount!
Facilities & Services
Cwrt Mawr's main facilities include:
Self-catered accommodation.
Wi-Fi and wired connection.
Laundry facilities.
Cleaning Service provided in all communal areas outside of your flat - entrances, landings, stairwells and corridors.
Access to Learning Centre (The Lounge @ Rosser or The Lounge @ PJM).
Secure cycle storage for up to 60 bicycles.
Refuse & Recycling collection points.
Parking (limited, permit required).
Residence Assistants providing guidance and support.
What's in Your Room?
Single bed (3 foot) & mattress.
Wardrobe.
Desk & computer chair.
Desk lamp.
Bookshelves.
Noticeboard.
Waste bin.
Wash basin (sink) with mirror.
What's in your Shared Areas?
Kitchen
1 x Fridge and 1 x Freezer, or 2 x Fridge/Freezer's.
2 x ovens with grills & hobs.
Microwave.
Kettle.
Toaster.
Breakfast bar with stools.
2 x Sofa's.
Coffee Table.
Iron.
Ironing board.
Mop & bucket.
Dustpan & brush.
Broom.
Noticeboard.
Hoover.
Bins - Dry mixed recycling, glass, food and general waste.
Bathroom
2 x toilets.
Hand sanitiser / wash basin (sink).
2 x Showers.
Location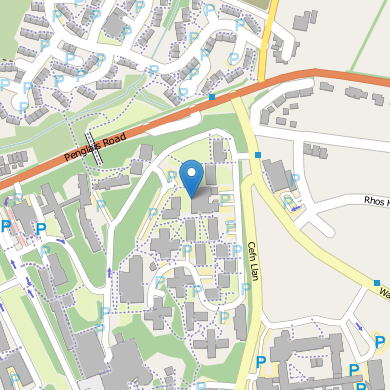 Click on the map to view the exact location of Cwrt Mawr.
Cwrt Mawr is within a five minutes walk of:
CK's supermarket.
Fish & Chip shop.
Bus stop.
Most Academic Departments.
University Libraries.
Gallery