Overview
Fferm Penglais Studios are situated adjacent to Pentre Jane Morgan and across the road from the Penglais Campus, which can be safely accessed via a footbridge. It offers you the very latest in purpose-built en-suite student accommodation. Located within easy walking distance of the University's academic buildings, the residence provides a superb environment for living and studying with generous en-suite bedrooms and high specification studios, including hard wired and Wi-Fi internet access. A convenient central service area provides café with pool table and 24/7 study areas, shop, vending, laundry rooms, bike stores, social and sporting facilities.
Accommodation
Fferm Penglais houses around 1000 students split between 22 blocks; 20 block containing en-suite rooms and 2 containing studio flats. Each block has either 6 or 9 self-contained flats comprising of individual personal studios.
These are completely self-contained spacious studios for single occupancy, consisting of your own private study bedroom, shower room and kitchen with dining area.
Catering
Students living in Fferm Penglais studios are self-catering.
Fferm Penglais has an on-site shop located within SGUBORfach offering you low cost convenience items such as, fresh bread and milk, frozen foods, toiletries and cleaning products.
Fferm Penglais is also located within a 5 minute walk of CK's supermarket, or alternatively residents can shop at the larger supermarkets in the town.
However, if you also like the sound of using our catering facilities you can load your Aber Card with money, or family/friends can top it up on your behalf, to use at any of our outlets - you will also benefit from the 10% discount!
Facilities & Services
Fferm Penglais' main facilities include:
Self-catered accommodation.
Self-contained studios.
Wi-Fi and wired connection.
Access to Learning Centres (The Lounge @ Rosser or The Lounge @ PJM).
Cleaning Service provided in all communal areas outside of your flat - entrances, landings, stairwells and corridors.
Laundry facillities.
Café with on-site shop, Wi-Fi, sofas, vending & group study.
Vending machines.
Refuse & Recycling collection points.
Parking (limited, permit required).
Residence Assistants providing support and guidance.
What's in Your Studio?
Bedroom:
Double bed (4 foot 6) & mattress.
Bedside cabinet.
Wardrobe.
Full length mirror.
Hanging rail.
Desk & computer chair.
Bookshelves.
Noticeboard.
Waste bin.
En-suite Bathroom:
Shower.
Toilet.
Wash basin.
Mirror.
Pedal bin.
Kitchen / Diner:
Combi Oven.
Induction Hob (Special pots and pans required*)
Fridge / Freezer.
Sink.
Cupboards.
Kettle.
Toaster.
Hoover.
Iron & Ironing Board.
Mop & Bucket.
Dustpan & Brush.
Dining Table with 2 chairs.
Tub chair.
*You can only use magnetised metal pots and pans, such as cast iron or steel. Pure aluminium or copper pans will not work unless base is bonded with a magnetic metal. Check your pots and pans are suitable for use on induction hobs – this should be clearly displayed on the box as text or a symbol.
Location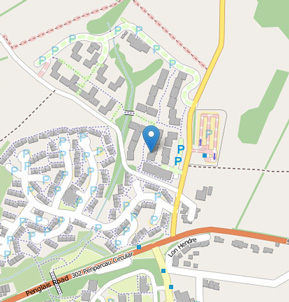 ‌Click on the map to view the exact location of Fferm Penglais.
Fferm Penglais is within a 5 minute walk of:
CK's supermarket.
Fish & Chip shop.
Bus stop.
Most Academic Departments.
University Libraries.
Fees
| Room Type | Weekly Cost 2023/2024 | Length of Contract 2023/2024 | Weekly Cost 2024/2025 | Length of Contract 2024/2025 |
| --- | --- | --- | --- | --- |
| Single Studio | £184.63 | 40 weeks* | TBC | 40 weeks** |
*From 10.00am on 22/09/2023 - 10.00am on 28/06/2024