Cycle Storage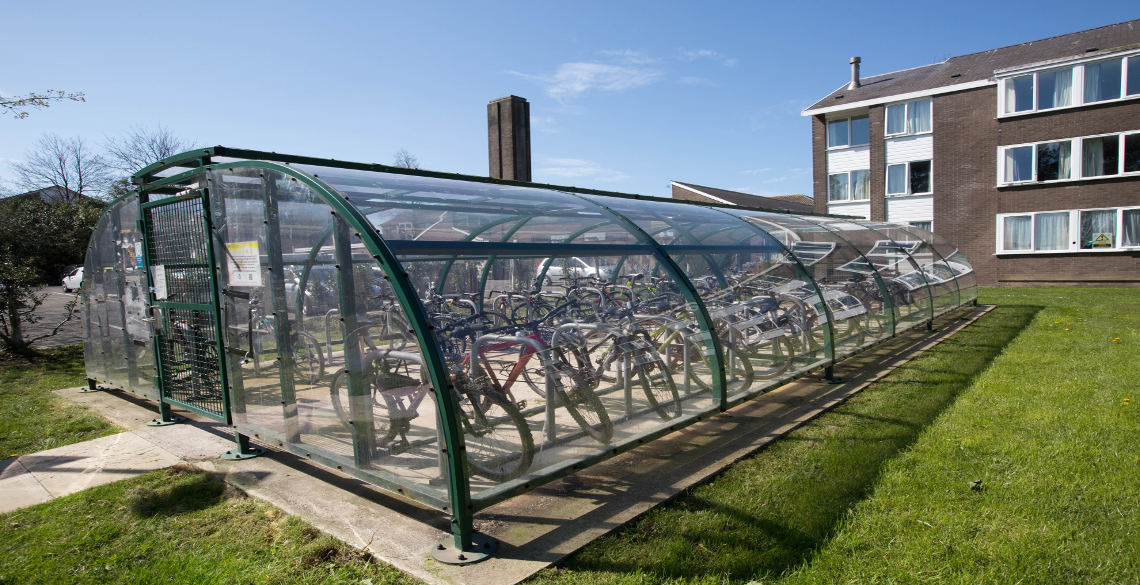 Aberystwyth University actively encourages you to use bicycles to get around and we have a number of secure indoor cycle stores. These are available next to Cwrt Mawr Communal Block, Penbryn and at Fferm Penglais. Residents are welcome to apply for one of a limited number of free spaces.
Bicycles are not allowed in study bedrooms, communal areas, and all evacuation routes including corridors, staircases and entrances for reasons of fire safety and damage. Bicycles found within Residences will be removed by staff and the owner may receive a warning if they are blocking exits or fire escapes.
How to apply
To apply, please complete the relevant application form below and return to the Accommodation Office.
Separate arrangements can be made for use of this provision over the summer vacation.
Bike wash facility
We also have a useful bike wash facility available on the Fferm Penglais site.
As long as you are a registered secure cycle store user and store your bike(s) either at Fferm Penglais, Cwrt Mawr, Rosser, Trefloyne or Pantycelyn cycle stores, you can use the bike wash facility free of charge.
The machine is token operated, and tokens can be collected from the Accommodation Office in Y Sgubor, Fferm Penglais between 8.30am-5.00pm Monday-Thursday and 8.30am-4.30pm Friday .
You will be provided with a maximum of 2 tokens at any one timehowever, you can simply pop back to the Accommodation Office when you need some more. Please ensure that you bring your AberCard with you as a form of identification when collecting your tokens.
Abandoned Bicycles
Any bicycles found, and thought to be abandoned are tagged with a two weeks warning notice and removed once the notice date is expired. Details of the bicycles are logged and retained by Security at Campus Reception.
What happens to abandoned bicycles?
Through the Halfords re-cycle a bike program, all unwanted bicycles are donated to 'Bikes to Africa' project.
These bicycles, are then shipped to Africa. The benefits of bicycle ownership are life changing and can significantly improve lives.