Pentre Jane Morgan - accessible housing
Overview
Pentre Jane Morgan (PJM), also known as 'The Student Village', is situated adjacent to Fferm Penglais and across the road from the Penglais Campus, which can be safely accessed via a footbridge. Many of the upstairs rooms in the houses embrace fine views of the town and the bay, which are just a ten minute walk away.
Accommodation
Pentre Jane Morgan houses around 1000 students split between 177 houses.
Each house has 5 bedrooms. 2 of the accessible houses have a fully self-contained flat including a washroom and adaptable kitchen with a carer's room next door should it be required. The other bedrooms in the house will have access to a shared bathroom and kitchen facilities. The other house contains one single bedroom with an en-suite washroom, 4 standard bedrooms with shared bathrooms; all bedrooms have access to a shared adaptable kitchen.
Catering
Students in PJM are self-catering.
Pentre Jane Morgan is located within a 5 minute walk of CK's supermarket, or alternatively residents can shop at the larger supermarkets in the town.
However, if you also like the sound of using our catering facilities you can load your Aber Card with money, or family/friends can top it up on your behalf, to use at any of our outlets - you will also benefit from the 10% discount!
Location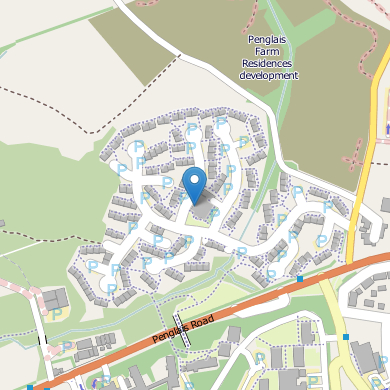 ‌Click on the map to view the exact location of Pentre Jane Morgan.
Pentre Jane Morgan is within a five minute walk of:
CK's supermarket.
Fish & Chip shop.
Bus stop.
Most Academic Departments.
University Libraries.
Gallery
Fees
| Room Type | Weekly Cost 2022/2023 | Length of Contract 2022/2023 | Weekly Cost 2023/2024 | Length of Contract 2023/2024 |
| --- | --- | --- | --- | --- |
| Single | £108.91 | 39 weeks* | £121.99 | 39 weeks** |
*From 10.00am on 23/09/2022 - 10.00am on 23/06/2023
**From 10.00am on 22/09/2023 - 10.00am on 21/06/2024