Urddo Dr Elaine Storkey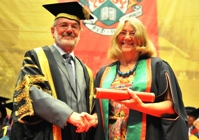 Yr Is-Lywydd Dr Glyn Rowlands yn derbyn Dr Elaine Storkey yn Gymrawd
Urddwyd yr academydd a'r ddarlledwraig flaenllaw, Dr Elaine Storkey, a enwyd yn ddiweddar yn un o'r 100 o ddeallusion cyhoeddus benywaidd ar restr The Guardian, yn Gymrawd Prifysgol Aberystwyth heddiw, ddydd Iau 11 Gorffennaf.
Mae Dr Storkey yn raddedig mewn Athroniaeth o Aberystwyth a chafodd ei chyflwyno gan yr Athro Andrew Henley, Cyfarwyddwr yr Athrofa Rheolaeth, y Gyfraith a Gwyddor Gwybodaeth.
Ar ôl astudio yn Aberystwyth, aeth Elaine ymlaen i wneud astudiaethau uwchraddedig yng Nghanada cyn mwynhau gyrfa academaidd nodedig ym maes Athroniaeth a Diwinyddiaeth.
Mae ganddi hefyd Ddoethuriaeth mewn Diwinyddiaeth ym maes Cymdeithaseg a Diwinyddiaeth o Lambeth a Doethuriaeth er Anrhydedd o Goleg Cheltenham and Gloucester.
Ers 2008 bu'n aelod o'r Bwrdd Uwch yng Ngholeg Newnham, Caergrawnt. Elaine yw Llywydd Tearfund ers 1997, ac mae hefyd yn Gyfarwyddwr Addysg ar Fyddin yr Eglwys, Eglwys Lloegr.
Mae wedi ysgrifennu wyth o lyfrau, ac mae hefyd yn ysgrifennu'n rheolaidd i gyfnodolion a phapurau newydd ac yn cyfrannu'n aml i Thought for the Day ar Radio 4.
Cyflwyniad yr Athro Andrew Henley i Dr Elaine Storkey.
Llywydd: braint a phleser yw cyflwyno Dr Elaine Storkey yn gymrawd o Brifysgol Aberystwyth.
Elaine Lively, as she was then known, was born in Ossett, in the West Riding of Yorkshire and came as an undergraduate to Aberystwyth, living in Plynlymon Hall. She graduated in philosophy in 1966. She was an active member of the college Christian Union and sang in the Choral Union. She still has good friends in the town. Postgraduate study took Elaine to McMaster University in Canada, and then to research on the work of Wittgenstein at the University of York. In 1998 Elaine was awarded a Lambeth Doctorate in Divinity, conferred by the Archbishop of Canterbury under ancient ecclesiastical privilege.
Elaine is a prolific author and lecturer, writing extensively for both lay and theologian audiences on the subject of justice, and particularly on the role of women. As an author she is perhaps still best known for her first book, "What's Right with Feminism?" published in 1985. In this book she makes a persuasive case for a Christian feminism, distinct from secular schools of feminist thought, but recognising the equality of women before God – created not socially constructed. Elaine has returned to this theme in a series of other works over the past three decades, and has been highly significant in moving forward the debate surrounding the place of women in leadership in the Anglican Church, firstly to the priesthood and, hopefully, before long to the episcopate. Elaine has served since 1987 on the General Synod of the Church of England. She has served on various key Anglican bodies including the Archbishop's Commission on Rural Areas, and is Director of Education for the Church Army.
Between 1992 and 1999 Elaine worked as Executive Director of the London Institute for Contemporary Christianity, a hugely influential organization founded in the early 1980s by the late John Stott to explore a Christian world view of society. In 1997 Elaine became the President of Tearfund, one of the UK's leading development charities. Tearfund provides £70m per annum of both emergency relief aid and long-term development support, via local church partners, to many of the world's poorest nations. This work takes Elaine to many different parts of the world, and has extensively informed her recent writing on globalization and development issues. She is, in short, passionate about promoting social and economic justice, and speaking against injustice.
Elaine continues to be in great demand as a public speaker and in the media. In 1997 she delivered the Sir D. Owen Evans lectures here at the University on the subject of the crisis of personal identity, to a packed lecture room over four evenings in the Old College. She has spoken on several occasions since in Aberystwyth. Her face is familiar in TV debate, but her voice is perhaps best known across the UK as one of the regular contributors over 20 years to BBC Radio 4's Thought for the Day.
It is my privilege to have known Elaine and her husband and fellow campaigner, Dr Alan Storkey, for almost 40 years and I am delighted to be able to present such a distinguished alumna for the award of a Fellowship.
AU24713