Urddo'r actor Richard Lynch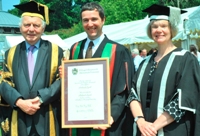 Richard Lynch (canol) gyda Syr Emyr Jones Parry, Llywydd Prifysgol Aberystwyth a'r Athro April McMahon, Is-Ganghellor
Urddwyd yr actor Richard Lynch yn Gymrawd Prifysgol Aberystwyth heddiw, ddydd Gwener 12 Gorffennaf.
Cyflwynwyd Richard Lynch, a raddiodd o Brifysgol Aberystwyth yn 1987, gan yr Athro David Ian Rabey o Adran Astudiaethau Theatr, Ffilm a Theledu.
Mae Richard Lynch wedi gweithio'n eang ym myd y theatr a theledu, gan ddod yn un o'r actorion uchaf ei barch yng Nghymru.
Yn brif actor gyda chwmnïau theatr blaenllaw megis The Royal Shakespeare Company, Y Cwmni, The Royal Court, Almeida Theatre a Brith Gof, mae'n arbennig o falch o'i gysylltiad agos â Theatr Genedlaethol Cymru, ac yn ddiweddar chwaraeodd y brif ran yn eu cynhyrchiad o Coriolanus.
Mae'n dal i feithrin perthynas agos â Lurking Truth/Y Gwir sy'n Llechu, a sefydlodd ar y cyd â David Ian Rabey pan oedd yn fyfyriwr israddedig, ac fe gyfarwyddodd ''I Saw Myself' gan Howard Barker yn Theatr y Chapter, Caerdydd y llynedd.
Cyflwyniad yr Athro David Ian Rabey i Richard Lynch
Lywydd, It is a great pleasure to introduce Richard Lynch for the conferring of a Fellowship of Aberystwyth University.
Born in Bedwas, Richard came from Rhydefelin School, Cardiff, to be an undergraduate student of Drama (primarily through the medium of Welsh) in Aberystwyth from 1984-7. During this time he distinguished himself as a student capable of first class marks, as he achieved in the first cohort of the departmental academic course Contemporary British and Irish Drama. This was all the more impressive as he was already engaged, during his vacations, in professional acting work from the end of his first undergraduate year: that summer, he was filming Karl Francis's film 'Milwr Bychan' (1986), in which he played the lead role of Wil Thomas, a young Valleys boy of limited prospects who joins the British Army and is sent to Northern Ireland; as a result of his traumatic experiences, Thomas begins a war of nerves with the army authorities, insisting on speaking only Welsh. 'Milwr Bychan' became an internationally acclaimed and successful film, and its justified attention included praise for Lynch's performance from Barry Norman as part of his weekly Film review programme for BBCTV.
Richard wore this acclaim lightly and modestly as he returned to Aberystwyth to complete his undergraduate studies. During his third year, he became one of a small group of students whose progress was followed by the makers of a 'fly-on-the-wall' documentary series, Aber, about student life in the town. The final shot involved Richard walking out of John Williams seafront hall with his case and along the prom, determining to become a professional actor.
During his second undergraduate year, Richard co-founded the theatre company, Lurking Truth/Gwir sy'n Llechu, alongside the newly arrived staff member, David Ian Rabey. Their first production in February 1986 was Richard's proposed staging of Howard Barker's play, 'Victory', in the Aberystwyth Barn Centre. To the company's honour and terror, the dramatist accepted an invitation to attend the production; this led to a prompt staging by the company of Barker's play 'The Castle', in Theatr y Castell (again with the attendance of the author), and the formation of an ongoing relationship between the dramatist and Aberystwyth which continues to this day, extending to Barker's work becoming the subject of research published by three of the current departmental staff, and the focus of a three-day international conference in 2009; and this relationship being formalized through the awarding of an Honorary Departmental Professorship to Barker.
Richard went on to work prolifically on stage, film, television and radio. His stage credits quickly numbered the title role in Hamlet for Moving Being theatre company, 'The Mysteries' for the Royal Shakespeare Company in Stratford, 'A Penny for a Song' in London's West End and 'Afore Night Come' (by another departmental Honorary Professor, David Rudkin) at the Young Vic. On the Welsh stage, his most memorable appearances included 'Pax',' Camlann' and 'In Patagonia' for Brith Gof, and, as a founder and board member of the company Y Cwmni, later renamed Fiction Factory, the creations of lead roles in the first productions of almost all the plays of Ed Thomas (a third departmental Honorary Professor): 'House of America', 'The Myth of Michael Roderick', 'Flowers of the Dead Red Sea', 'East from the Gantry', 'Song from a Forgotten City', 'Gas Station Ange'l. He also performed in the award-winning National Theatre Wales production of 'The Persians' (2011, directed by departmental professor Mike Pearson). Richard's most familiar television work is probably in the role of Gary in the long-running series, 'Pobl y Cwm'. His radio work has included his playing the lead role of Dylan Thomas in a play about the denizens of the famous New York Chelsea Hotel, and earlier this year the title role in R. S. Thomas's radio verse drama, 'The Minister', on Radio 4.
Throughout this time, Richard remained a loyal as well as eminent graduate of the department, revisiting Aberystwyth with productions of Ed Thomas's work and always making himself available for workshops and question and answer sessions with students afterwards. He has frequently visited to watch departmental productions, as well as to attend departmental conferences and symposia, manifesting an active interest in the most adventurous aspects and developments of his chosen art form. His most recent departmental performance was in the 2011 25th anniversary rehearsed reading performance of 'Victory', alongside other original company members such as Eddie Ladd and Roger Owen.
2012 saw two further developments in Richard's already illustrious career: his acclaimed performance in the title role of 'Coriolanus' (directed by departmental professor Mike Pearson and departmental Research Fellow Mike Brookes) for the National Theatre of Wales in co-production with the Royal Shakespeare Company, as part of that year's international World Shakespeare Festival. Richard's performance as Coriolanus was recognized by the Wales Theatre Critics selection of him to achieve their Actor of the Year award for 2012. And that year, Richard also resumed the role of director for Lurking Truth/Gwir sy'n Llechu, still active 26 years after its formation, with a highly successful production in Cardiff's Chapter Arts Centre of Howard Barker's play 'I Saw Myself' – which, appropriately, again featured a visit and public address by the dramatist.
Last autumn Richard very generously shared his expertise with some of the cohort of departmental students present here today by offering a masterclass in performing Shakespeare to those who were engaged in my departmental production of 'Henry V' and to postgraduates, over two half-day sessions.
We could hope for no better ambassador for the department, and no more inspiring figure and alumni practitioner to indicate and introduce to our students, than Richard Lynch, with his outstanding international achievements and manifest courage in the most prestigious, demanding and innovative ventures in theatre and across all dramatic media. It is a pleasure and honour to present him as a fellow of the University.

AU25013