Urddo Dr Mary King yn Gymrawd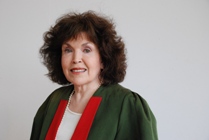 Dr Mary King, Cymrawd Prifysgol Aberystwyth
Bydd yr ymgyrchydd dros iawnderau dynol, Dr Mary King, a fu'n gweithio wrth ochr Dr Martin Luther King, yn cael ei chyflwyno yn Gymrawd Prifysgol Aberystwyth heddiw.
Mae Dr King, a fu'n astudio ym Mhrifysgol Aberystwyth, yn academydd cydnabyddedig ac yn awdur toreithiog. Mae ei llyfrau yn cynnwys Freedom Song: A Personal Story of the 1960s Civil Rights Movement a dderbyniodd Wobr Llyfr Coffa Robert F Kennedy.

Mae hefyd wedi cyhoeddi llyfrau ar Mahatma Gandhi a Martin Luther King, ar wrthsafiad didrais a'r intifada Palesteinaidd cyntaf, ar wladwriaethau democrataidd newydd dwyrain Ewrop, ac yn fwy diweddar ar y frwydr hanesyddol yn erbyn sustem caste India.
Mewn byd arall mae'n briod gyda Peter Bourne, a fu'n gweithio yn y Ty Gwyn am nifer o flynyddoedd, ac sydd bellach yn ffermio llamas a byfflo ger Tregaron yng ngorllewin Cymru.
Bydd Dr King yn cael ei chyflwyno fel Cymrawd Prifysgol Aberystwyth gan yr Athro Michael Foley, Pennaeth Adran Gwleidyddiaeth Rhyngwladol, am 11.00 o'r gloch fore Mercher 13 Gorffennaf.
Mae'r Dr King yn un o saith Cymrawd sydd yn cael eu hurddo gan Brifysgol Aberystwyth yn ystod Seremoniau Graddio 2011 sydd yn cael eu cynnal rhwng y 12fed a'r 15fed o Orffennaf 2011.
Cyflwyno Dr Mary King yn Gymrawd Prifysgol Aberystwyth gan Yr Athro Michael Foley, Pennaeth Adran Gwleidyddiaeth Rhyngwladol 
Llywydd: braint a phleser yw cyflwyno Mary King  yn gymrawd o Brifysgol Aberystwyth.
In one guise Mary King is a local farmer's wife from Tregaron – albeit the farm is unconventional in that it specializes in llamas and buffaloes. The farmer himself - Peter Bourne - is also unusual in that he served for several years in the White House. It is readily apparent that this household is far from ordinary and nothing exemplifies it more than Mary King herself.
Dr King hasn't merely one claim to distinction but several. She has been a long term political activist in opposing minority persecution and in supporting human rights. This began in her home country of the US with her work for the SNCC - Student Nonviolent Coordinating Committee - one of the key organizations that campaigned for black civil rights in the Deep South during the 1960s. Her experiences at working alongside such figures as Martin Luther King in confronting systematic racial segregation generated a life-time's interest in understanding how oppressive power structures operate and what measures can taken to transform them.
In addition to this work, Mary King is a prolific writer. Her books include Freedom Song: A Personal Story of the 1960s Civil Rights Movement.  This won theRobert F. Kennedy Memorial Book Award.  Further books appeared on Mahatma Gandhi and Martin Luther King; on Nonviolent Resistance and The First Palestinian Intifada; on Emerging Democracies in Eastern Europe; and most recently a study of the historic struggle against the caste system in India.
Mary King is also an academic of high renown:
1999 PhD
1999–2001 Professor of International Politics, St George's University, Grenada, West Indies,
Professor of peace and conflict studies at UN University for Peace in Costa Rica
Distinguished scholar at the American University's Center for Global Peace in Washington, D.C.
Fellow at the Rothermere American Institute at the University of Oxford.
The following snapshot of her recent activities bears witness to the reach of Mary's interests:
Workshops on Peace Research / Peace Capacity Building in Nigeria; Ethiopia; and Senegal.
Workshops on Nonviolent Transformation of Conflict in Sierra Leone; South Africa; and Nigeria.
A development initiative on gender and peace building, Zambia.
And work in Sudan on environmental degradation as a cause of conflict in Darfur.
If all this were not enough, Dr King also has an impressive record of public and government service – most notably as a senior official with worldwide responsibility for the US Peace Corps as well as several national domestic volunteer service programs. She has worked with and for President Jimmy Carter for over thirty-five years and remains one of his special advisers. In this role as well as in many others, Dr King has built up an astounding network of personal contacts with the heads of state and government ministers in more than 120 developing countries.
It will have already become clear that Mary has a special interest in political transformation and human rights. Her signature study is that of peaceful change - in particular the virtues and techniques of nonviolent civil resistance, nonviolent social movements, and nonviolent strategic action in acute political conflicts. She is in effect an international publicist for these devices - which of course have received a resurgence of interest in the current period of the 'Arab spring'.
Very few individuals can claim the mantle of 'global citizen' but Mary King surely ranks as one of them. A well known quotation of Robert F. Kennedy is highly apt for Mary King: 'There are those who look at things the way they are, and ask why... I dream of things that never were, and ask why not?' I think that Mary extends the question to 'how might these missing things be brought about?' Her career is a monument to that injunction and it is that which we rightfully honour today.
It is therefore a pleasure to welcome Mary back to Aber today in order to give our full recognition to her many accomplishments around the world – and for the world.
Barchus Lywydd : mae'n fraint i gyflwyno Mary King  yn gymrawd o Brifysgol Aberystwyth.