Urddo'r Is-Gadfridog Jonathon Riley yn Gymrawd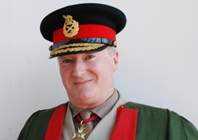 Yr Is-Gadfridog Jonathon Riley.
Mae'r Is-Gadrfidog Jonathon Riley, arweinydd milwrol, awdur ac academydd yn cael ei urddo'n Gymrawd Prifysgol Aberystwyth heddiw, dydd Iau 14 Gorffennaf 2011.

Ymunodd Jonathon Riley â'r Fyddin ym 1973 gan ymroi i fywyd yn y lluoedd arfog, cyn ymddeol o wasanaeth gweithredol yn 2009 pan ymgymerodd â'r rôl o Gyfarwyddwr Cyffredinol a Meistr yr Arfdai Brenhinol.
Dyfarnwyd Urdd Gwasanaeth Neilltuol i'r Is-Gadfridog Riley fel cydnabyddiaeth o'i ddewrder a'i ymddygiad neilltuol yn y Balcannau ym 1995. Gwnaethpwyd yn Swyddog o'r Lleng Teilyngdod Unol Daleithiau'r America yn 2004 a'i wneud yn Gydymaith Urdd y Baddon yn Anrhydeddau'r Flwyddyn Newydd, 2008. Ym mis Rhagfyr 2009 derbyniodd y Fedal Gwasanaeth Teilwng NATO gan yr Ysgrifennydd -Cyffredinol.


Mae'n awdur nodedig ac wedi cyhoeddi pedwar ar ddeg o lyfrau sy'n cynnwys nifer o gyfrolau ar hanes milwrol.
Mae'r Is-Gadfridog yn briod â'r awdur a'r darlledwr Cymreig Sara Edwards, a phan na ydynt yn gweithio, maent yn byw yn Sir Gaerfyrddin.


Cyflwynir yr Is-Gadfridog Jonathon Riley gan yr Athro Martin Alexander o Adran Gwleidyddiaeth Rhyngwladol am 3 o'r gloch brynhawn Iau 14 Gorffennaf.


Mae'n un o saith Cymrawd fydd yn cael eu hurddo gan Brifysgol Aberystwyth yn ystod Seremonïau Graddio 2011 sydd yn cael eu cynnal ar y 12fed, 13eg, 14eg a'r 15fed o Orffennaf.


Cyflwyno Lieutenant-General Jonathon Riley yn Gymrawd Aberystwyth University gan Yr Athro Martin Alexander, Pennaeth yr Adran Gwleidyddiaeth Rhyngwladol


Lywydd : braint a phleser yw cyflwyno Is-Gadfridog Jonathon Riley yn gymrawd o Brifysgol Aberystwyth

President: it is my privilege and pleasure to present Lieutenant-General Jonathon Riley as a Fellow of Aberystwyth University.


Jonathon Riley joined the Army in 1973 and was commissioned the following year. Since then he has served peacetime tours of duty in Britain, the USA, Canada, Denmark, Germany, Kenya and Cyprus. He taught at Sandhurst from 1984-1986, attended the Army Staff College, Camberley, as a student in 1987, and taught there in 1993. He was the Deputy Commandant of the Joint Services Staff College, responsible for the Higher Command and Staff Course – the senior course in the college – as well as all courses for Army students, from 2001 – 2003. He has been Chief of Staff of an armoured brigade and an armoured division.


On operations, Lieutenant-General Riley has served six tours in Northern Ireland, one in Central America, five in the Balkans; one in Sierra Leone; two years in Iraq and a year in Afghanistan. He has commanded on operations in every rank, including as Commanding Officer, 1st Battalion The Royal Welch Fusiliers in Goražde, 1995; Commander 1 Mechanized Brigade in Bosnia in 1998, Deputy Commanding General Multi-national Division (South-West) in Bosnia, 1998–1999; Deputy Commanding General, Coalition Military Advisory and Training Team, Iraq, 2003–2004; Commanding General, Multi-national Division (South-East) and General Officer Commanding British Forces Iraq, 2004–2005. He is one of a small number of British Officers to have commanded a tri-service Joint Task Force on operations, which he did in Sierra Leone in 2000–2001. In these operations, he has had the privilege of commanding not only British troops, but also troops from the USA, Canada, Australia, New Zealand, Denmark, the Netherlands, the Czech Republic, Belgium, Lithuania, Luxembourg, Romania, Italy and Sierra Leone. He became Senior British Military Adviser to United States Central Command in August 2005. Lieutenant-General Riley served as Deputy Commander of NATO ISAF in Afghanistan from October 2007 to December 2008. In June 2009 he took up the appointment of Director General and Master of the Royal Armouries.


Lieutenant-General Riley was awarded the Distinguished Service Order, for bravery and distinguished conduct in the Balkans, in 1995. He was made an Officer of the Legion of Merit of the United States of America in 2004. He was made a Companion of the Most Honourable Order of the Bath in the New Year's Honours, 2008. He received the NATO Meritorious Service Medal from the Secretary-General in December 2009.


Lieutenant-General Riley holds the degrees of BA (Geography) from University College London; MA (History) from the University of Leeds; and PhD (Modern History) from Cranfield University. He is a visiting professor in Military History at the King's College London, a member of the Council of the Royal United Services Institute, and the Chairman of the Royal Welch Fusiliers Museum and Archive Trust.


He has fourteen published works including several military histories: "Soldiers of the Queen" (1993), "White Dragon" (1995), "The Royal Welch Fusiliers, 1945 – 2000" (2001), and "That Astonishing Infantry" (2008); and four studies of command including "From Pole to Pole" (1987); "Napoleon and the World War - 1813" (2000), "The Life and Campaigns of General Hughie Stockwell" (2006), "Napoleon as a General (2007)", "Decisive Battles" (2009), "Up to Mametz ….and Beyond" (2010) and most recently "A Matter of Honour" (2011).


He is married to the Welsh writer and broadcaster Sara Edwards; when not working, they live in Carmarthenshire.

Lywydd : braint a phleser yw cyflwyno Is-Gadfridog Jonathon Riley yn gymrawd o Brifysgol Aberystwyth.