Heat and X-Ray Collection
Welcome to the heat and X-ray collection at Aberystwyth University Physics Museum. X-rays were studied extensively in the early days of the University and a lot of that equipment now resides in this museum.
This collection is split into two sections:
HEAT
Boiler
Circa 1885
This boiler was used in the physics laboratory to provide steam for a coefficient of expansion of brass experiment up until 1950.
Davy Lamp 1835
Circa 1835
These lamps were designed to be used safely in flammable environments. This lamp dates from before 1839 as glass was used in the design after that.
Davy Lamp 1882
Circa 1881
This Davy lamp dates from before 1882 as after this date, a metal bonnet as placed over the gauze.
Specific Heat Device
U. C. W. Workshop. 1900
This is an elaborate device consisting of two electrically heated gilt calorimeters with mechanical stirrers and was previously used to determine the specific heat of substances.
Thermometers
A collection of thermometers, in case with a variety of scales and ranges. Used to measure temperature.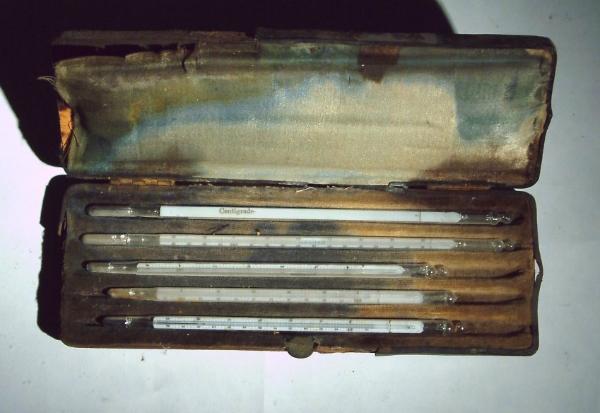 Thermometer No. 4041
By Gerhardt of Bonn. 1897
This Jena glass thermometer is in a leather case with a 0-55 °C range scale.

X-RAYS
Andrew Rapid X-Ray Tube
Circa 1915
An X-ray tube on a wooden base by Andrew Rapid, labelled Mammoth. Dating from around 1915. X-ray tubes convert electrical signals into x-rays.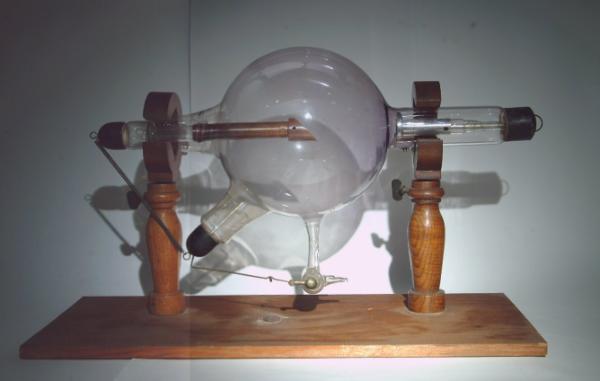 X-Ray Photographs
Circa 1900-1910
Two boxes of ½-plate X-ray photographs of university staff, buildings and rooms all taken between 1900 and 1910. Some were taken with a Bottone Wimshurst machine and some with a coil.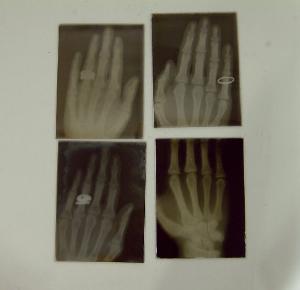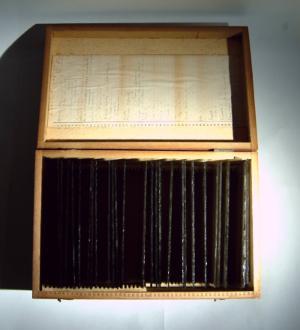 Bottone Wimshurst machine


Circa 1900-1910
Used to take X-ray photographs of various things it comes with it's own leyden jars. The machine is mostly intact however it does not rotate as the leather belts are damaged as is one of the metal cross bars.
Four Electrode X-Ray Tube
Circa 1895
This is a very early X-ray tube with no focusing. Unusually it has four electrodes.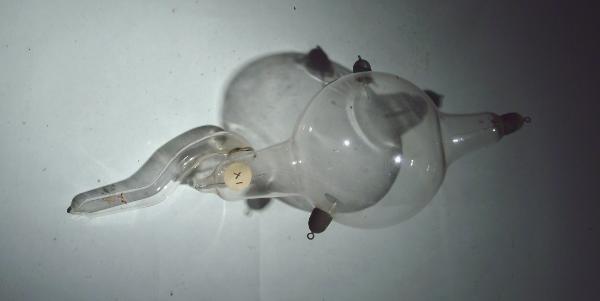 Herbert Jackson's Focusing X-Ray Tube
Circa 1896
The concave cathode on this device focused the electrons onto the target. This piece used two electrodes.

Small X-Ray Tube

Circa 1900
This small X-ray tube uses a focusing cathode and two electrodes.
Small Pair of X-Ray Tubes
Circa 1900
This pair of small X-ray tubes each use three electrodes and a focusing cathode.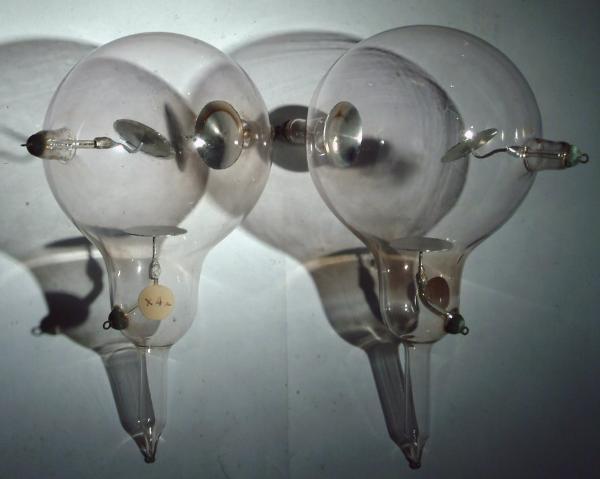 Cox's Record No. 59688 X-Ray Tube
By Becker. 1910
This early 20th century X-ray tube is from Becker's catalogue and uses an anode with rim to achieve "sharper definition".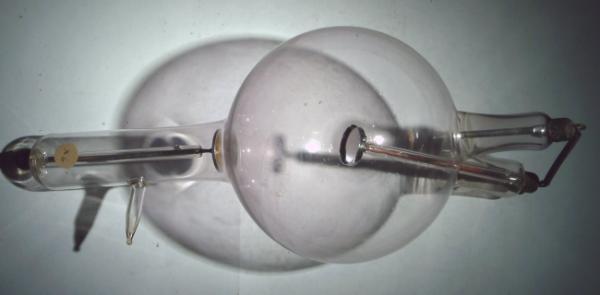 Original Müller Röntgen Röhre No. 65783 X-Ray Tube
Circa 1920
This X-ray tube uses a vacuum regulator and is labelled "Good Jany. 1931" by Prof. G. Owen.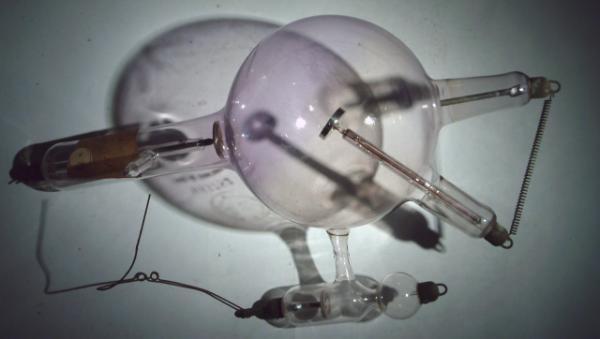 Copper Anode X-Ray Tube No. 5955
Circa 1925
An X-ray tube with a vacuum regulator and a heavy copper anode in order to dissipate heat within the tube. Labelled in the hand of Prof. G. Owen.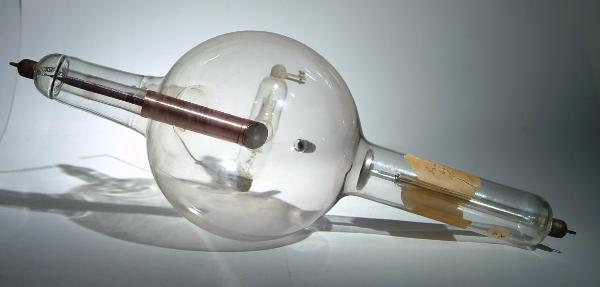 Coolidge X-Ray Tube A 1211
By B. T. H. 1930
This 20th century tube has very thick glass, radiating fins, a filament cathode and an anode.

Original Müller X-Ray Tube No. 96072
Made in England, this X-ray tube uses a vacuum regulator.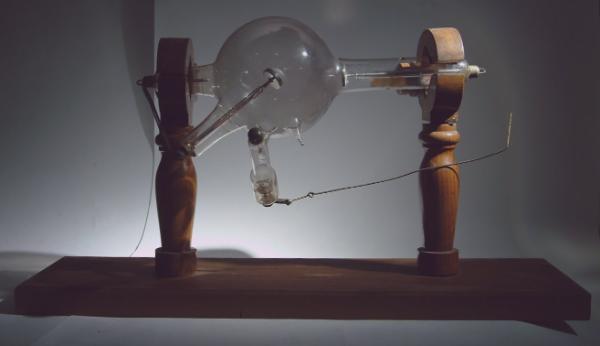 X-Ray Tube Housing Serial No. 14393

By Machlett X-Ray Tubes Ltd.
X-ray Tube housing's allow precise mounting of tubes while also shielding the user from the radiation that is emitted.