Prof Simon Banham
BA (Hons)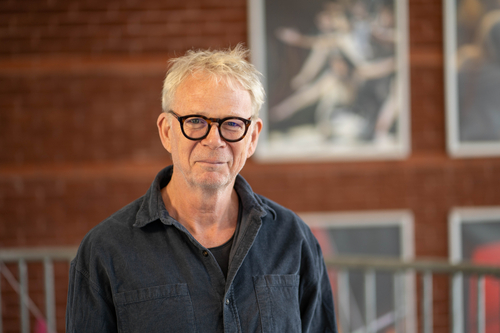 Proffil
Simon Banham wedi treulio'r 30 mlynedd diwethaf yn gweithio fel Dylunydd Scenograffeg / Theatr. Bu'n Bennaeth Dylunio (1991-1995) yn Theatr Contact, Manceinion, ac mae ganddi berthynas hir a pharhaus gyda Theatr Cerddoriaeth Cymru. Mae'r rhan fwyaf o'i gwaith cyfredol gyda Quarantine, y cwmni cyd-sefydlodd gyda chyfarwyddwyr Richard Gregory a Renny O'Shea yn 1998.
Ers Medi 1999 mae wedi dysgu yn yr Adran Astudiaethau Theatr, Ffilm a Theledu ym Mhrifysgol Aberystwyth.
Gwybodaeth Ychwanegol
The Persians a gynlluniwyd gan Simon Banham / Mike Brookes i'r Theatr Genedlaethol Cymru enillodd y TMA (Cymdeithas Rheoli Theatr) Dyfarniad 'Cynllunio Gorau 2010'.
Greek a gynlluniwyd gan Simon Banham ar gyfer Theatr Cerdd Cymru dyfarnwyd 'Gyflawniad Eithriadol yn Opera' ar gyfer 2011 a gyflwynwyd gan Wobrau Theatr DU.
Dysgu
Module Coordinator
Coordinator
Tutor
Lecturer
Blackboard Dept Admin
Attendance Dept Admin
Senograffeg a Dylunio Theatr.
Ymchwil
Senograffeg fel cydawdur wrth greu perfformiadau. Senograffeg fel 'testun' amgen a chyd-ddibynnol, gyda chwmni theatr Quarantine: Materion a thiriogaeth sy'n ymwneud â gweithio gyda 'arbenigwyr bob dydd', perfformwyr heb eu hyfforddi, gan greu esthetig gwrth theatraidd, theatraidd iawn, amgylcheddau perthynol, ac awydd i greu 'sefyllfaoedd 'yn y gwaith sydd wedi ei leoli ar y ffin rhwng theatr a dawns. Mae integreiddio senograffeg perthynol o fewn greu a chomisiynu Theatr Opera / cerddoriaeth gyfoes.
Grwpiau Ymchwil
Cyhoeddiadau
Ladd, E
, Banham, S
, Brummer, L, Pelczynska, W, Vass, I, Cheuk Yin, M, Lee, J, Bergenheim, H, Gosheven, G, Sandys, K, Emberton, G, Aloni, I, Davies, R, Podraza, H & Rhodes, K,
It Will Come Later
, 2018, Performance, Krakowskie Centrum Choreograficzne, Krakow.
Banham, S
,
It Will Come Later
, 2018, Design, Krakowskie Centrum Choreograficzne, Krakow.
Banham, S
,
What is the City but the people?
, 2017, Performance, Manchester International Festival, Manchester.
Banham, S
,
Summer, Autumn, Winter, Spring
, 2016, Performance, Quarantine, Manchester.
Mwy o gyhoeddiadau ar y Porth Ymchwil