Dr David Jones BA Ph.D. (Cymru) FRHistS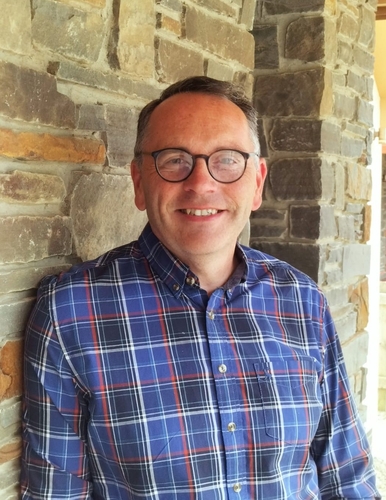 Head of Department (History & Welsh History)
Reader
Manylion Cyswllt
Proffil
Mae gan Dr David Ceri Jones BA Ph.D. (Cymru), ddiddordebau eang yng Nghymru fodern gynnar ac yn y ddeunawfed ganrif, ynghyd ag Ynysoedd Prydain, a byd ehangach yr Iwerydd. Hanesydd syniadau ydyw yn bennaf, ac mae craidd ei ymchwil yn ymwneud â themâu sy'n ymwneud â hanes crefydd y ddeunawfed ganrif, yn enwedig efengyliaeth a Methodistiaeth. Mae ganddo ddiddordeb penodol hefyd yn y rhyngwyneb rhwng hanes a diwinyddiaeth, gyda llawer o'i waith yn rhychwantu'r ddwy ddisgyblaeth.
Dysgu
Ymchwil
Cyfrol gyntaf David_'A Glorious Work in the World': Welsh Methodism and the International Evangelical Revival, 1735'1750_ (2004), oedd yr unig waith am hanes a osodwyd ar restr fer Gwobr gyntaf glodfawr Roland Mathias ar gyfer ysgrifennu am Gymru yn Saesneg yn 2005.
Mae wedi datblygu'r gwaith hwn yn sylweddol gan ysgrifennu ymhellach am ddatblygiad Calfiniaeth yn y ddeunawfed ganrif a dechrau'r bedwaredd ganrif ar bymtheg, ac yn ddiweddar cwblhaodd The Elect Methodists: Calvinistic Methodism in England and Wales, 1735'1811, a gaiff ei gyhoeddi gan Wasg Prifysgol Cymru.
Ym mis Rhagfyr 2010 cyd-drefnodd gynhadledd ar Martyn Lloyd-Jones yn Wycliffe Hall, Rhydychen. Ar y cyd ag Andrew Atherstone yn ddiweddar gorffennodd olygu cyfrol o ysgrifau'n codi o'r gynhadledd â'r teitl Engaging with Lloyd-Jones, a gaiff ei chyhoeddi yn 2011 gan IVP.
Mae prosiectau ymchwil y dyfodol yn cynnwys cynhyrchu'r golygiad beirniadol cyntaf o ohebiaeth Drawsiwerydd yr efengylwr o'r ddeunawfed ganrif, George Whitefield, cofiant i Elwyn Davies, sylfaenydd y Mudiad Efengylaidd yng Nghymru, a chyflwyniad i efengyliaeth, The Fire Divine: Introducing Evangelicalism, sydd i'w gyhoeddi gan IVP.
David hefyd yw golygydd y cyhoeddiad nodedig Proceedings of the Wesley Historical Society.
Oriau Swydda (Amseroedd cyswllt myfyrwyr)
Dydd Llun 2.00-3.00
Dydd Mawrth 2.00-3.00
Dydd Iau 2.00-3.00
Cyhoeddiadau