Dr Gareth Hall
BSc (Hons, UWIC); PhD (Prifysgol Morgannwg); CPsychol; FHEA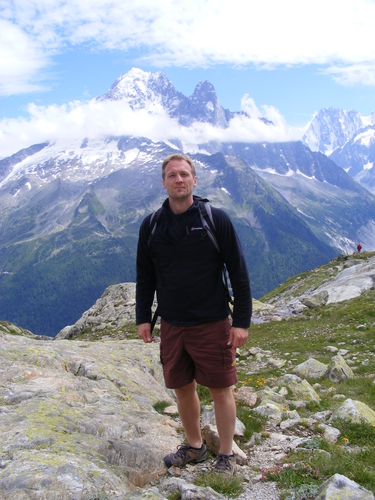 Senior Lecturer in Psychology
Manylion Cyswllt
Proffil
Mae Gareth yn seicolegydd cymdeithasol sydd â chefndir penodol mewn theori hunaniaeth gymdeithasol a methodoleg gymysg mewn cyd-destunau cymhwysol. Mae Gareth hefyd yn aelod sefydledig o'r adran Seicoleg a sefydlwyd yn 2007, ac mae ganddo brofiad helaeth o ran datblygu rhaglenni a chyflenwi meysydd craidd yng nghwricwlwm Cymdeithas Seicolegol Prydain (BPS).Mae hefyd yn Aelod Siartredig o'r BPS, yn Gymrawd o'r Academi Addysg Uwch, ac enillodd Wobr Gwella Addysgu a Dysgu o Brifysgol Aberystwyth yn 2011.Mae Gareth wedi gwasanaethu'n ffurfiol yn rôl Swyddog Arholiadau (2007-2014, 2016), fel aelod pwyllgor o bwyllgor Dysgu ac Addysgu'r adran (2008-2013), fel Uwch Diwtor (2014), ac yn fyr fel Cyfarwyddwr Dros Dro Derbyniadau a Recriwtio (2009 a 2011). Mae Gareth hefyd wedi gwasanaethu fel aelod o Senedd y Brifysgol a'i is-bwyllgor datblygu staffio a phroffesiynol (2013 - 2015). Yn y pen draw, mae Gareth wedi gwasanaethu fel aelod pwyllgor o Gangen Cymru'r BPS (2013-2015), gan drefnu'r Gynhadledd myfyrwyr seicoleg gyntaf yn Aberystwyth (2014). Mae hefyd yn aelod o'r Pwyllgor Addysg Israddedig (2015 - presennol) ar gyfer y BPS, sy'n gyfrifol am achredu rhaglenni meistr israddedig, rhaglenni trawsnewid a Meistr mewn Seicoleg ledled y DU.
Ymchwil
Rwy'n Seicolegydd Cymdeithasol (yn wreiddiol mewn safbwyntiau Hunaniaeth Gymdeithasol o'r hunan cymdeithasol) sy'n angerddol â chymhwyso seicoleg i helpu i ddeall a gwella bywyd cymdeithasol mewn cyd-destunau cymhwysol. Mae'r gwaith hwn fel arfer yn ymwneud â chyd-destunau chwaraeon a'u posibiliadau a'u cyfyngiadau trawsnewidiol (chwaraeon ar gyfer datblygu, ymddygiad rhwng y grŵp a ffandom, a lles mewn perthyn i gymunedau diwylliant corfforol, megis CrossFit a thimau chwaraeon traddodiadol). Roedd fy PhD mewn Seicoleg Gymdeithasol yn herio paradigau arbrofol blaenllaw ar brosesau grŵp trwy brofi damcaniaethau labordy yn y byd go iawn. Gan ddefnyddio grwpiau cymdeithasol byd-eang a methodoleg greadigol, roeddwn yn gallu cynhyrchu ymchwil maes arbrofol newydd, a oedd yn cefnogi astudiaethau labordy traddodiadol yn rhannol, ond hefyd yn dangos bod rhyngweithio cymdeithasol yn llawer mwy cymhleth ac yn groes i unrhyw theori seicolegol neu ddull arbrofol i gael mewn labordy. Er hynny, rydwMae'r cydweithrediadau hyn yn adlewyrchu fy uchelgais a diddordeb mewn datblygu cymunedau a methodolegau ymchwil rhyngddisgyblaethol creadigol a chydweithredol, gan gynnwys rhanddeiliaid tu allan i'r byd academaidd, i hwyluso newid cymdeithasol a gwella bywyd cymdeithasol. Mae hyn wedi tanseilio fy niddordeb i arloesi fy nhrefnau mewn Seicoleg Gymdeithasol, megis trwy dechnolegau digidol i ddysgu am hunan cymdeithasol pobl i ffwrdd o'r labordai.
Oriau Swydda (Amseroedd Cyswllt Myfyrwyr)
Dydd Llun 09:30-11:00
Dydd Iau 14:00-15:30
Cyhoeddiadau
Scholz, A, Xanthe, C, Proud, D, Darby, A
, Hall, G
, McCulloch, A, Phillips, R, Speight, L & Duckers, J 2023, '
An "expanding area" of interest: The effect of elexacaftor/tezacaftor/ivacaftor (ETI) therapy on body image and weight
',
Journal of Cystic Fibrosis
, vol. 22, no. S2, pp. S25-S25.
10.1016/S1569-1993(23)00256-4
Ivaldi, A
, Sanderson, AS
, Hall, G
& Forrester, M 2021, '
Learning to perform: A conversation analytic systematic review of learning and teaching practices in performing arts lesson interactions
',
Learning, Culture and Social Interaction
, vol. 28, 100459.
10.1016/j.lcsi.2020.100459
Hall, G
2020, '
Social Identity in Sport: A review of 'The New Psychology of Sport and Exercise: The Social Identity Approach' edited by S Alexander Haslam, Katrien Fransen and Filip Boen (SAGE).
',
Psychologist
, pp. 59-60. <
https://thepsychologist.bps.org.uk/we-sport
>
Hall, G
& Reis, A 2019, '
A Case Study of a Sport‐for‐Development Programme in Brazil
',
Bulletin of Latin American Research
, vol. 38, no. 3, pp. 317-332.
10.1111/blar.12921
Hall, G
& Reis, A 2019,
Rugby and Sport Development in Brazil: From peripheral to centre stage
. in J Harris & N Wise (eds),
Rugby in Global Perspective : Playing on the Periphery.
1st edn, Routledge Focus on Sport, Culture and Society, Taylor & Francis, pp. 77-89.
Mwy o gyhoeddiadau ar y Porth Ymchwil