Laundry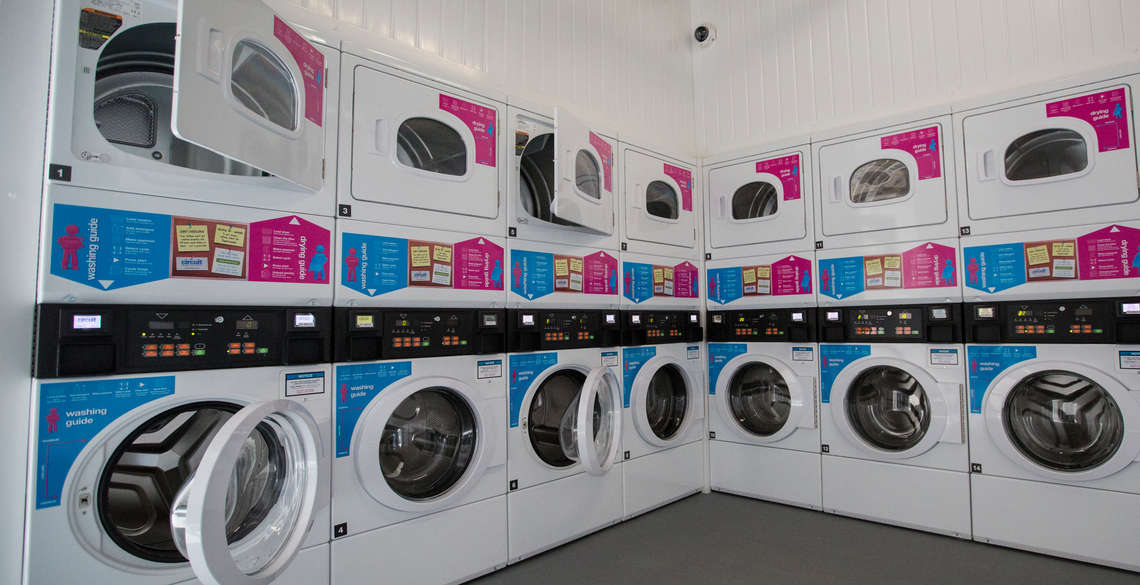 Doing your laundry in University residences has never been easier.
For more information such as how to use machines, please see below.
Laundry Room Access
All AU Residents will have access to the laundry rooms by their Aber Card. Laundry rooms can be found at: Cwrt Mawr, Rosser C, Rosser G (only available for residents of Rosser G), PJM Amenities Block, Pantycelyn-Penbryn (only available for residents of Pantycelyn-Penbryn), Pumlumon Basement (Seafront) and Fferm Penglais (x3).
Should you require use of the lift to access the laundry room in Y Sgubor then please contact the Accommodation Office.
Washing and Drying
Prices of washing and drying can be found on individual machines however to give you an idea of costs, a standard wash costs £2.50, whilst a standard dry is £1.30 for 60 minutes.
Once you've put your clothes and washing powder in the machine, hold you laundry card/app against the card reader on the machine, select your preffered cycle and then hold your laundry card/app on the machine again. The machine will then start automatically.
If a low balance message appears, it means you have insufficient funds and your balanace needs a top-up.
After using the dryers, please clean the filter - instructions of how to do this can be found on the dryers.
Top Tip! You can open your dryer mid cycle to check whether your clothes are dry. If you want to extend your drying cycle, hold your card or the app up to the machines QR code to extend the cycle in 10 minute increments.
How to Get the Best Wash
Ensure your clothes are separated properly (most importantly dark coloured clothes from light coloured clothes!).
Select the most suitable cycle. If in doubt, check the label in the garment for washing instructions and refer to the Top Tips.
Fill the drum to the correct height as indicated on the machine. Make sure your laundry sits between the maximum and minimum lines presented next to the drum.
Clean the lint filter at the front of the dryer to ensure your clothes dry properly.
Use all-in-one tablets and place them at the centre of the drum.
Laundry Cards
Laundry cards can be purchased in the following laundry rooms: Cwrt Mawr, Rosser C, PJM, Pantycelyn-Penbryn and Pumlumon Basement (Seafront).
The price of laundry cards is £2. So, for example, if you put £10 in the machine you will receive a card with £8 credit. You can either put £10 or £20 into the machine. Unfortunately, the machine will not give change.
To check how much credit you have left on your card, press any number on the top-up machine and swipe the card against the reader, your balance will then be displayed on the screen. Alternatively, your balance will be shown each time your card is swiped against the washer or dryer.
Unfortunately, if you lose your laundry card, there is no way to replace it or your credit. Therefore, you will have to buy a new one.
For details on how to get a refund of unused credit on your laundry card, please visit Circuit's FAQ page - https://www.circuit.co.uk/help-support/faqs/
Topping-up your card
To top-up, visit the Circuit Laundry website. You will need to register to use 'My Circuit'. Once this is done, payments can be made via Debit/Credit Card or PayPal.
If you feel you are entitled to a refund you should Circuit's dedicated Card Helpline – 01422 820026.
Circuit View
Circuit View allows users to view how many machines are available and in use.
You can also request to be alerted when your washing and drying is complete.
Faults
Faults are to be reported by calling the Freephone helpline on 0800 092 4068 or if using a mobile, by calling 01422 820040. If there is a phone in your laundry room, pick up the handset and it will dial directly to the Circuit Helpdesk and is free to use.
Faults can also be reported online by visiting the Circuit Laundry website, clicking the 'Get in touch' tab and filling in the 'Report a machine fault' form. When reporting a fault, please provide the site name and number which can be found on red stickers on the laundry room walls.
Some Common Faults
Machines out of order
Circuit request that all faults are reported immediately to avoid machines being out of order for prolonged periods. When calling the circuit help line on 01422820026, you will be asked for the site reference number, located on the red sticker by the door in the laundry room, the machine number and a short description of the fault. Once reported we endeavour to attend the call within 8 working hours. Circuit need to be made aware of the breakdowns in order to repair the machines.
Clothes still coming out wet
The machines installed across Aberystwyth campus are designed to redistribute the load if it becomes uneven. When a machine is overloaded or under loaded this becomes harder to achieve, so make sure to follow the load guide stickers on each washing machine. Also, some programme cycles spin faster than others. For instance, a white or colours programme will achieve a much faster spin than a permanent press or delicate cycle.
Dryers not drying properly
Choosing the correct cycle on both the washing machines and tumble dryers is crucial to achieving an effective dry. 60 minute drying cycles may not be quite enough time to dry items such as Jeans, towels etc. You may need a top up of 10 or 20 minutes which can be added anytime during the dry period.
Top Up Amounts
When topping up your laundry credit, there is a minimum top up of £5 but you can top up in 25p increments if topping up over this amount.
Machines full of water
This is usually a result of colour catchers caught inside the drain pump. We do display stickers on the machine asking not to use colour catchers for this reason. This can also be due to small items, such as hair clips, that have managed to work their way between the door seal and drum and into the drain pump. Always check the pockets on your clothes before putting them in the machine.
App doesn't work
Like all apps, this runs off a 3g/4g or a WIFI signal. A strong signal is required to use the mobile app. If there is no signal or WIFI then a card will be required to operate the machines. We would always recommend being connected to a strong WIFI signal as the best option.
EDL (Error Door Lock) error message displaying on machine
If the machine displays an EDL error message, the door lock is not shutting properly. In the event of this happening, try and firmly close the door. Should the EDL error message still be displayed, please contact Circuit Laundry to report the issue and use an alternative available machine.