Laundry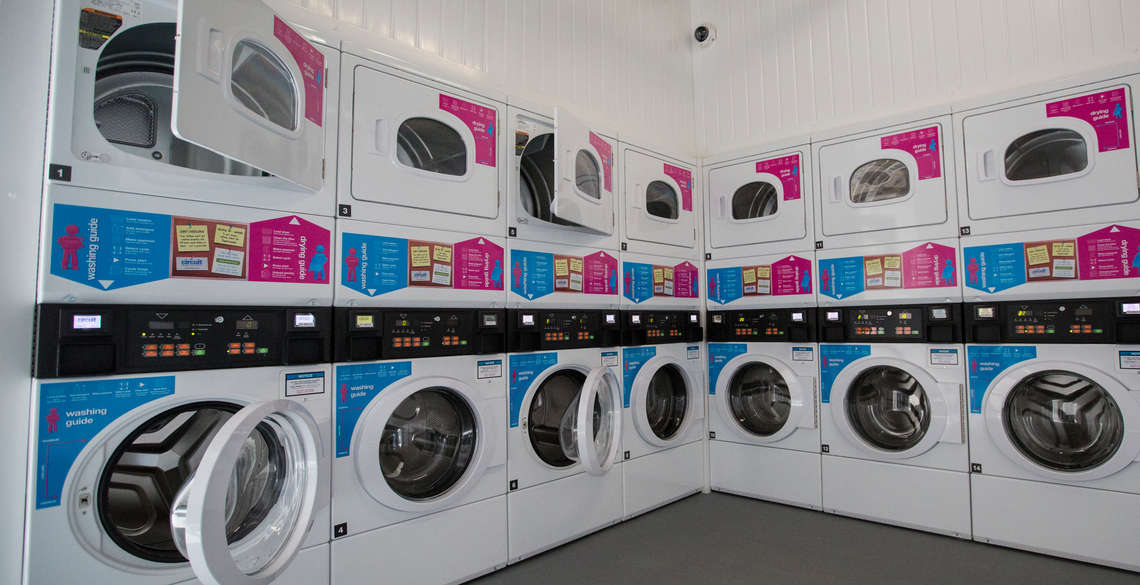 Doing your laundry in University residences has never been easier.
For more information such as how to use machines, please see below.
Laundry Room Access
All AU Residents will have access to the laundry rooms by their Aber Card. Laundry rooms can be found at: Cwrt Mawr, Rosser C, Rosser G (only available for residents of Rosser G), PJM Amenities Block, Pantycelyn-Penbryn (only available for residents of Pantycelyn-Penbryn), Pumlumon Basement (Seafront) and Fferm Penglais (x3).
Circuit Laundry App
You can make washing and drying clothes even easier with the circuit laundry app!
For more information, please visit www.circuit.co.uk.
Washing and Drying
Prices of washing and drying can be found on individual machines.
Once you've put your clothes and washing powder in the machine, hold you laundry card/app against the card reader on the machine, select your preffered cycle and then hold your laundry card/app on the machine again. The machine will then start automatically.
If a low balance message appears, it means you have insufficient funds and your balanace needs a top-up.
After using the dryers, please clean the filter - instructions of how to do this can be found on the dryers.
Laundry Cards
Laundry cards can be purchased in the following laundry rooms: Cwrt Mawr, Rosser C, PJM, Pantycelyn-Penbryn and Pumlumon Basement (Seafront).
The price of laundry cards is £2. So, for example, if you put £10 in the machine you will receive a card with £8 credit. You can either put £10 or £20 into the machine. Unfortunately, the machine will not give change.
To check how much credit you have left on your card, press any number on the top-up machine and swipe the card against the reader, your balance will then be displayed on the screen. Alternatively, your balance will be shown each time your card is swiped against the washer or dryer.
Unfortunately, if you lose your laundry card, there is no way to replace it or your credit. Therefore, you will have to buy a new one.
Topping-up your card
To top-up, visit the Circuit Laundry website. You will need to register to use 'My Circuit'. Once this is done, payments can be made via Debit/Credit Card or PayPal.
If you feel you are entitled to a refund you should Circuit's dedicated Card Helpline – 01422 820026.
Laundry View
Laundry View allows users to view how many machines are available and in use.
You can also request to be alerted when your washing and drying is complete.
Faults
Faults are to be reported by calling the Freephone helpline on 0800 092 4068 or if using a mobile, by calling 01422 820040. If there is a phone in your laundry room, pick up the handset and it will dial directly to the Circuit Helpdesk and is free to use.
Faults can also be reported online by visiting the Circuit Laundry website, clicking the 'Get in touch' tab and filling in the 'Report a machine fault' form. When reporting a fault, please provide the site name and number which can be found on red stickers on the laundry room walls.