Meet the Team
Meet your Res. Life Team for 2020/21!
Jonny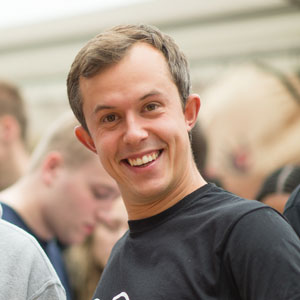 | | |
| --- | --- |
| Name | Jonny Davies |
| Position | Residence Life Manager |
| Aber Graduate | Department of International Politics |
| Hobbies | Skateboarding, football (watching and playing), watching films/tv shows, ParkRun |
| Favourite film | Rogue One: A Star Wars Story |
Adrianne
Name

Adrianne Jones

Degree Subject

Computer Science and Mathematics.

Year of Study (in 2019/20)

3rd Year.

Hobbies

Hiking, climbing and some slack lining.

Favourite film(s)/tv show(s)

Films: All of the MCU films

TV: Dirk Gently's Holistic Detective Agency

Favourite book(s)

1984, Dr Jekyll and Mr Hyde and anything written by Douglas Adams.

Fun Fact

I completed the West highland Way this summer.

Proudest achievement

Managing to run a 'youth tent' for 12 to 16 year olds for a week without crying.
Grace
| | |
| --- | --- |
| Name | Grace Coniff |
| Degree Subject | Psychology |
| Year of Study (in 2019/20) | Third Year |
| Hobbies | Hiking, swimming and travelling |
| Favourite film(s)/tv show(s) | Harry Potter, Death in Paradise |
| Favourite book(s) | Struck by Lightening, The Phantom Tollbooth |
| Fun Fact | I have dual citizenship |
| Proudest achievement | Coming from the US to University in the UK |
Henry
| | |
| --- | --- |
| Name | Henry Dugmore |
| Degree Subject | Physical Geography and Computer Science |
| Year of Study (in 2019/20) | 3rd |
| Hobbies | Sailing and Fencing |
| Favourite film(s)/tv show(s) | The Cornetto Trilogy |
| Favourite book(s) | The Very Hungry Caterpillar |
| Fun Fact | I did a 72 hour gaming marathon on just the power of red bull once |
| Proudest achievement | I was West Midlands regional champion in the RYA Youth RIB championship a few years ago. |
Khai
| | |
| --- | --- |
| Name | Khai Jackson |
| Degree Subject | Psychology |
| Year of Study (in 2019/20) | 3rd |
| Hobbies | Trips to the theatr, theme parks |
| Favourite film(s)/tv show(s) | Lilo and Stitch |
| Favourite book(s) | Complete Collection of Shakespeare's Plays, |
| Fun Fact | I have been on television 3 times |
| Proudest achievement | Making it this far through my degree |
Richard
| | |
| --- | --- |
| Name | Richard Hughes |
| Degree Subject | International Relations |
| Year of Study (in 2019/20) | Postgraduate |
| Hobbies | Reading, Gaming, and Walking |
| Favourite film(s)/tv show(s) | Lord of the Rings, Game of Thrones, and Designated Survivor |
| Favourite book(s) | Rangers' Apprentice, Lareten Crepsly Sag, Throne of Glass series |
| Fun Fact | I once accidentally managed to microwave my phone instead of my porridge |
| Proudest achievement | Not setting the house on fire when microwaving my phone |
Roisin
| | |
| --- | --- |
| Name | Roisin Donnelly |
| Degree Subject | Childhood Studies |
| Year of Study (in 2019/20) | 3rd year |
| Hobbies | Baking, taking part in St John training and duties. |
| Favourite film(s)/tv show(s) | Grey's Anatomy |
| Favourite book(s) | The Charm Bracelet. |
| Fun Fact | I have been to 17 countries of the world. |
| Proudest achievement | Getting the Gasche Award. |